Jourdan Dunn Is Engaged to Her Boyfriend after Two failed Relationships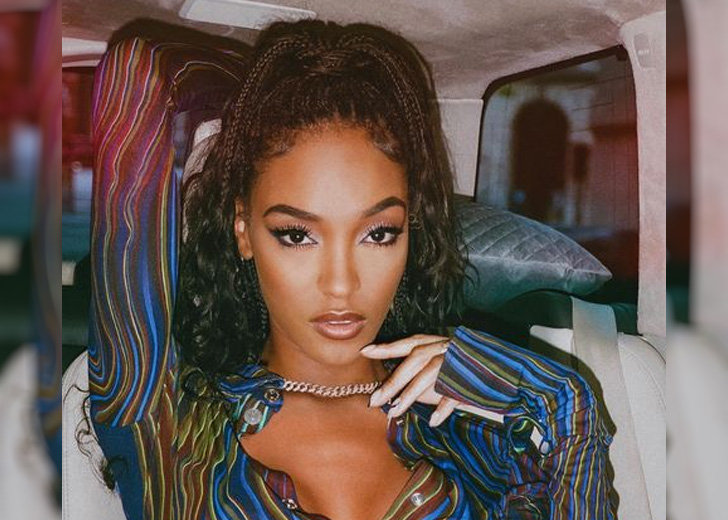 Model Jourdan Dunn is engaged to rapper and fashion designer Dion "Sincere" Hamilton. The two got together in 2019 after Dunn's two failed relationships with her exes — Jordan Cummings and Younes Bendjima.
Dunn has been together with her fiancé since 2019, and the two have hit many major milestones in their relationship.
Hamilton first appeared on Dunn's Instagram in January 2020, where she uploaded a picture of herself at a beach with her boyfriend and her son Riley.
"2009 my son entered my life, 2019 my life partner entered my life," she wrote in the caption. "Stepping into 2020 with both by my side is priceless."

Jourdan Dunn's first post with boyfriend Dion Hamilton. (Source: Instagram)
Though Dunn had gone public with her new boyfriend on the new year's post, Hamilton's identity was kept a secret and even his face had been blurred out by a heart emoji.
Jourdan Dunn and Boyfriend Are Engaged
Just a month after posting about Hamilton, Dunn once again took to Instagram to break another news.
Posting a picture of Hamilton holding her left hand, which had a ring on it, Dunn revealed she was engaged to her partner.
"Jourdan Dunn Hamilton…… has a nice ring to it!" she wrote in the caption.

Jourdan Dunn announced her engagement with her fiance. (Source: Instagram)
Many of her popular friends swarmed the comment sections to congratulate the model.
"YAY BABY YAY? SO happy for you," Poppy Delevingne wrote. Hailey Bieber also commented six heart emojis to express her happiness at the news.
Though Hamilton and Dunn have not yet taken the next step and their relationship and gotten married, Dunn frequently takes to Instagram to post about her boyfriend.
Dunn has also shown her support to Hamilton plenty of times. Back in February 2022, she uploaded several pictures of herself and her boyfriend. "Boundless bliss," she wrote in the captions, followed by a string of heart and star emojis.
Who Is Jourdan Dunn's Fiance?
Hamilton is a rapper, music producer and fashion designer from the UK. As a musical artist, he is known under the pseudonym "Sincere."
Hamilton is the co-founder of Blanks Factory. He also manages the artist Fredo, who had a number one hit in the UK in 2019.
As a fashion designer, Hamilton has found even more fame for owning the brand, Lizzy. Lizzy is a clothing brand that has caught many people's eyes, including the likes of Rita Ora and Wretch 32.
The rapper revealed more about himself when talking to Interview Magazine back in 2012. There, he shared he had fallen in love with rapping at 15.
"I wrote my first verse to House of Pain's 'Jump Around.' Performing my own verse to people and seeing them enjoy it is what gave me the inspiration to make music," he shared.
"After that, I got in my dad's studio and started recording music. But the first real step I had on the music scene was with UK rap legend, Skinnyhead."
Hamilton also noted that he liked his fashion as much as he loved his music. He further added that he thought it was important to be fashion conscious.