Jonathan Van Ness Loves Being Married to Mark Peacock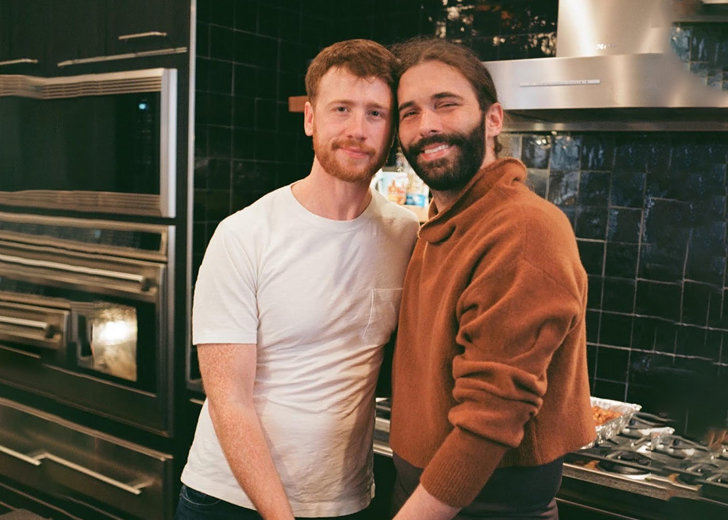 Jonathan Van Ness and his partner, Mark Peacock, are happily married.
The two allegedly tied the knot in the middle of the pandemic in June 2020. The wedding was an intimate ceremony in the backyard of a house the couple rented over the summer.
The ceremony was attended by a few close friends, a judge, and a photographer, while their family watched the ceremony via FaceTime. But Van Ness only announced the exciting news later in December.
"Thank you universe for allowing me to be here & thanks to everyone who has supported me. 2020 was a year unlike any other," Van Ness wrote while reflecting on 2020 in a lengthy Instagram post.

Jonathan Van Ness with his partner Mark Peacock. (Photo: Instagram)
He then revealed that he married his boyfriend Peacock, a former model, saying, "I got married to my best friend & have a loving partner to continue building my life with."
At the time, he was yet to reveal Peacock's identity, too.
Following that, Van Ness has been open about his husband and vice versa. And ever since then, both have been a regular feature on each other's social media, where they tirelessly gush about their married life.
Jonathan Van Ness and Mark Peacock's Love on Social Media
While expressing their love, the power couple has written some of the most heart-touching and sweet words on social media.
For instance, he dedicated his Valentine's Day 2022 post to his husband, implying he loved being married to him.
"I'm so proud to be yours & really proud of us," he added in the caption.
The Instagram post also featured a series of adorable pictures that evidently showed they loved each other's presence and enjoyed being married to one another.
Likewise, Van Ness and his partner Peacock also celebrated their first wedding anniversary in June 2021 — and to mark the occasion, the Queer Eye star posted a slideshow of photos of the happy couple.
The posted pictures showed glimpses of their wedding day, followed by images of them attending events with one another and traveling the world side by side. Van Ness also included two solo snaps of Peacock in the post.
"Happy One Year Wedding Anniversary @marklondon," Van Ness wrote alongside his post. "I love our adventures and I can't wait to make more."
But How Did They First Met?
In one of his Instagram posts, the famed hairdresser and activist also opened up about how he first met and ended up getting married to his future partner.
"We went on a date in London, which turned into more dates whilst I was on a comedy tour," he detailed in his post.
Van Ness continued to share, "At the end of that time I was taking my mom, aunt & friends on a mini break to Amsterdam. I wanted @marklondon to come with but, was it a bit intense to ask Mark to come after a couple weeks worth's of dates to come meet my mom & and friends on a mini break?"
As per him, the meeting left a good impression on both of them, and more importantly, both felt something different about each other.
After that, the two could do no wrong, as they chose one another and have been happily married ever since.