Revisiting the Time When Jon Bernthal Smacked Tom Holland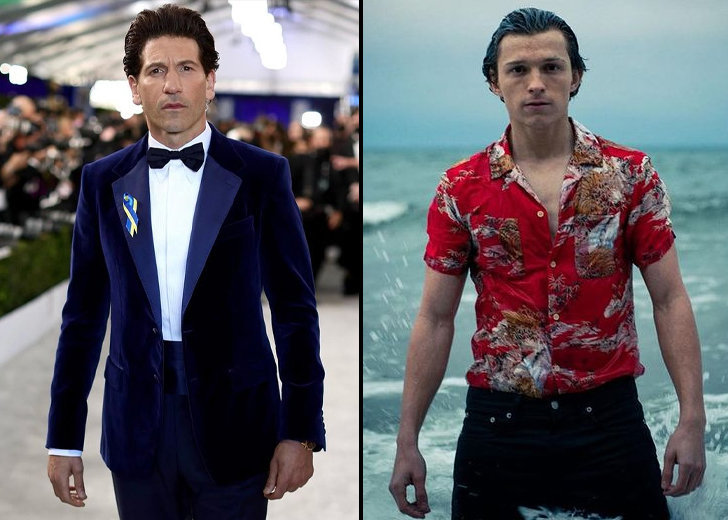 Tom Holland and Jon Bernthal have been critically acclaimed for their roles in the Marvel Cinematic Universe (MCU). 
Holland plays the role of Peter Parker/Spiderman, whereas Bernthal portrays Frank Castle in Daredevil and The Punisher. 
However, before the two joined MCU, they had worked together in Pilgrimage. In addition, they had helped each other a lot while working on the medieval drama.  
This included Bernthal giving Holland a thunderclap right on his face. 
Jon Bernthal Slapped Tom Holland
Holland talked about his experience working with Bernthal while having hot wings on Hot Ones.
He said he felt stressed while doing some scenes and needed help to roughen up. 

Tom Holland posing for a picture. (Source: Instagram)
Therefore, he asked his co-star to help and scare him a little bit. Initially, Bernthal acted as if he wanted to do no such thing. 
The Punisher star explained Holland was his "little brother" and did not want to rough him up. However, Bernthal had only said so to surprise his co-star.
Once the camera started rolling, Bernthal did not hesitate to slap Holland right on his cheeks. It took Holland by surprise, and as a result, it helped him. 
Bernthal did not want Holland "to know it was coming" so that the slap would do its job. The trick worked and Holland recalled, "it was great."
The Spider-Man: No Way Home actor took no offense to the slap. He even said that Bernthal "properly cracked me one." 

Jon Bernthal posing for a photo on a red carpet event. (Source: Instagram)
Holland gushed Bernthal was "one of the greatest guys" he had ever met.
Tom Holland and Jon Bernthal Helped Each Other
The actors helped each other out while practicing lines and filming the audition tapes for their respective roles as the Punisher and Spiderman.  
They rehearsed lines in between the scenes during their shooting of the medieval action film for their roles in their upcoming projects.
During a particular instance, Holland helped Bernthal by acting alongside him in a scene for his acclaimed role as the courageous vigilante during the audition.
In an interview with Variety, the Daredevil actor recalled Holland had happily obliged when he asked him to rehearse his part for his acclaimed role.
Bernthal has nothing but the utmost respect for Holland and his work ethic. The actor was immensely impressed by Spider-Man: Far From Home star's talent and the lengths he went to perfect his award-winning role.
He feels Holland has already achieved a lot, not only for his age but as an actor. He has been present throughout the MCU star's journey as everyone's favorite Marvel superhero. 
In the end, Holland and Bernthal, helping each other, paid off. Holland landed the role of Parker, whereas Bernthal got to portray Castle in not one but two MCU projects.