TikTok's Beloved Jessica Christine Has Passed Away after Public Cancer Battle

Jessica Christine, a TikTok personality in her 30s, has passed away.
On Tuesday, April 5, 2022, Christine's friend Michelle confirmed the sad news through social media. She allegedly posted a video on Christine's TikTok and Instagram, stating that her friend was now in peace.
"Hey, friends and family! Jessica is in peace now. Thanks for sticking around while she kept you posted," Michelle voiced over the video.
The video was shot inside the hospital room with burning candles and flowers in focus.
A week ago, Christine, whose official name is Jessica Hiatt, introduced her two friends to her internet friends. One of the friends was Michelle, while the other friend was Courtney.
She stated that her friends would post on her behalf on her social media in the future so that her "friends and family" get updated about her health.
Fans Express Sadness over Jessica Christine's Death
As soon as the news was confirmed, fans began expressing their mourning while sending condolences to Christine's family.
"She left a legacy that can't be understated. She helped us all grow as people by sharing her journey of confronting mortality. Rest In Peace, Jess," one commented on TikTok.
Another follower on Instagram chimed in, saying, "She touched many lives I am so blessed one was mine. Thank you for keeping me posted Jessica Fly high with the Angles."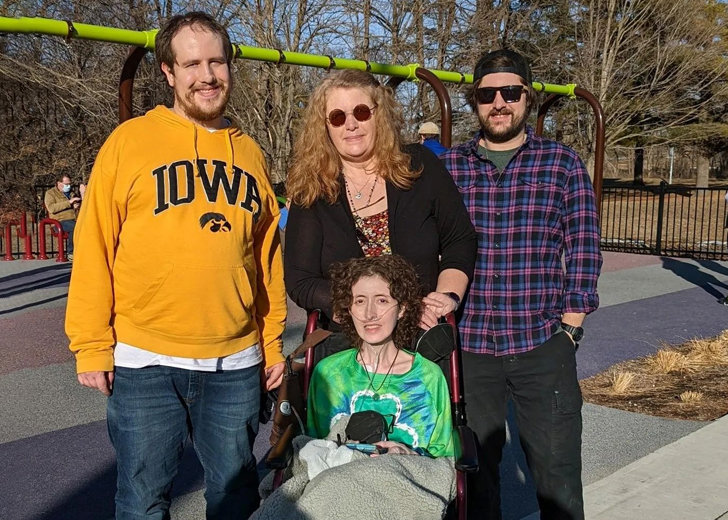 Cancer diagnosed Jessica Christine with her family members. (Photo: Instagram)
Similarly, someone wrote, "Rest in peace sweet Jessica," before adding, "because of you, I have a colonoscopy scheduled. You touched so many lives, and I'm sure you will also save many by encouraging others to get checked out, get a second opinion, and listen to your body… thank you. I will never forget you."
Fans had shown concerns about her health for the last few weeks since she posted very less on social media. Many even assumed she passed away weeks ago, but Christine later took to social media to clarify she was alive at the time.
Now, she has left the world, and all her well wishes have nothing but prayers that she rests in peace.
What Happened to Jessica Christine?
Christine was diagnosed with terminal cancer in May 2019. And the disease eventually took her life.
However, she rose to fame after she started updating about her illness and health, first through TikTok. Many people supported her with good wishes, while some sent her gifts and letters to cheer her up.
Speaking with Starting Line in an interview in February 2022, she said that she made regular videos because it helped her document her life and interact with people.
"It helps me 'cause it was kind of like being able to journal about it," she said. "I guess document what I was going through and it's fun to interact with people all around the world."
In her March 2022 video update, the social media personality shared that she had terminal stage 4 colon cancer along with tumors in her brain. And over the last few years, she had two major surgeries and 36 rounds of chemotherapy.
Christine discontinued the chemotherapy treatment since it had already taken a tremendous toll on her body and her body was unable to handle it.