Zack 'JerryRigEverything' Nelson and Wife Unveil Their Baby and Pregnancy First Time on YouTube
Zack Nelson and his wife welcomed their son Cyrus Nelson.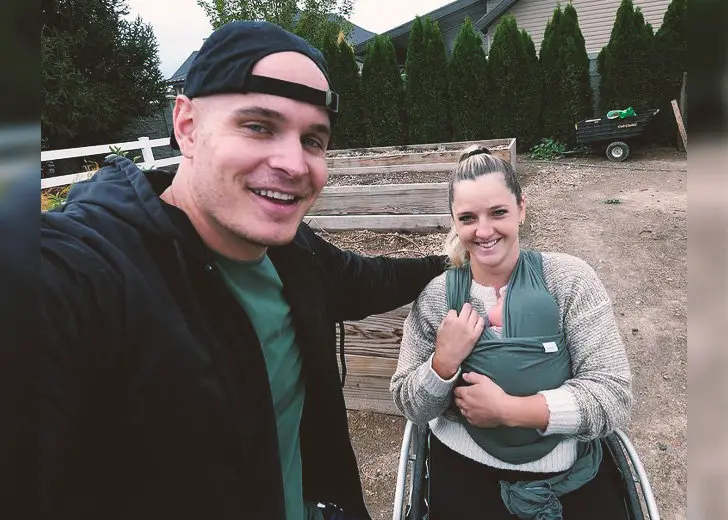 Zack 'JerryRigEverything' Nelson and his wife Cambry Kaylor made a major announcement on June 18, 2021.
The famous YouTuber's wife, Kaylor, took to her Instagram to upload a photo of her baby bump in their homegrown garden and jokingly wrote that "veggies aren't the only thing growing this summer" in the caption. Since making the announcement, the couple has consistently updated their fans about their pregnancy. 
A few months later, on September 26, Kaylor recounted how challenging the pregnancy was for her at 37 weeks. She wrote that she had to take naps twice a day and that her stomach hurt, but she felt grateful to have had a wonderful experience. 
Finally, on October 8, Kaylor uploaded a photo of her newborn baby son, Cyrus Nelson. A few days later, baby Cyrus also made his debut on Zack's YouTube channel, JerryRigEverything. 
Zack Nelson and His Wife Unveil Their Baby and Pregnancy on YouTube
Zack uploaded a video on YouTube titled 'We grew more than just pumpkins this year...' on October 15, where they gave fans an update and a tour of their homegrown garden and talked about their pregnancy for the first time in a video.
In the video, Kaylor shared that she was 23 weeks pregnant, while Zack confessed that he knew little about babies and said they were halfway through their pregnancy journey. The couple also shared that their baby was due in October, the same time they were harvesting their vegetables.

The couple also provided an update about their garden, which was five weeks old. Zack talked about their irrigation system while his wife talked about all the vegetables they had grown in their garden, like peppers, melons, cantaloupes, and watermelons.  
The video then transitioned to the following week. Kaylor was 24 weeks pregnant, and the garden was six weeks old. Like the previous week, the couple gave an update about the new vegetables growing in the garden. 
The couple continued to give updates about their pregnancy and garden at weeks 9, 12, 13, 14 until they reached week 20, where Zack shared that their kid would join them in the next week. The following week, Kaylor had their child swaddled on her chest. 
Kaylor shared that she was feeling lighter now that she had given birth. 
Zack Nelson and Cambry Kaylor's Marriage
Zack and Kaylor's son arrived two years after their wedding. 
The duo went to the same high school, but nothing happened. It was only when they chanced upon each other on a dating app 13 years later that the couple hit it off. Zack proposed to his girlfriend in April 2019, and within three months, they got married. 
And now, they have finally grown their family. 
Congratulations to the happy couple.