JerryRigEverything's Wife Cambry Kaylor Marks His YouTube Milestone on Baby Bump
JerryRigEverything and Kaylor are expecting their first child.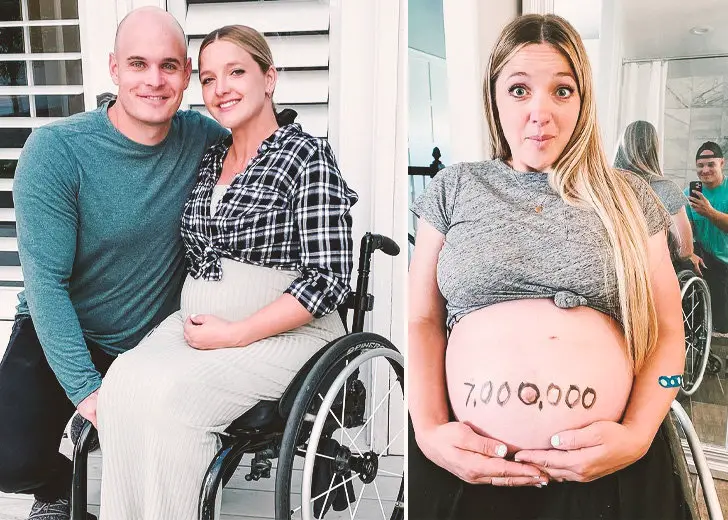 JerryRigEverything, real name Zack Nelson, reached 7 million subscribers on his famous YouTube channel on October 4, 2021. His wife of two years, Cambry Kaylor, celebrated the success in the most extraordinary way possible.
She marked the milestone on her growing baby bump and announced the joyous news to all their fans and followers through her Instagram. Posting the picture of the baby pod, the occupational therapist shared she typically baked a cake for her partner's YouTube subscriber milestones. 
Then she stated that since there was already a bun in the oven, her baby bump should work.
The adorable picture saw Kaylor expressing her excitement with her hands cupping her baby bump. And that wasn't all. The photo also featured JerryRigEverything and his million-dollar smile as he clicked the picture in front of the camera. 
Aside from his wife's remarkable post, Nelson shared the happy news with his followers on Twitter. He uploaded a picture of his YouTube profile with the number of subscribers and wrote, "Deeper grooves at a level 7."
JerryRigEverything's YouTube Career
Nelson was into repairing things from a young age. The 33-year-old did construction in high school and repaired computers as a side job.
In early 2010, he did his first significant repair by mending his jeep for $80. Initially, he was charged $1,000 to fix it, but he repaired the jeep himself, as it cost him an arm and a leg.
Nelson documented the process and uploaded it as the first video in his channel, JerryRigEverything, created on July 23, 2012. Meanwhile, he juggled his school and a 40 hours a week job at a cell phone store.
So, he focused little on YouTube. But when the store closed, Nelson had enough time to create content for his channel. Upon realizing that YouTube could be a legit business, the content creator reviewed electronic gadgets and automobiles. 
JerryRigEverything garnered massive attention for his systematic durability tests that saw him burning, breaking, scratching, dropping, and all other imaginable things to see if a phone could withstand the challenges.
He even experimented with a bulletproof Tesla, shooting the car deliberately, and testing the smart locks. 
Courtesy of his engaging content based on technology, JerryRigEverything's subscribers has only been growing. The technological reviewer reached one million subscribers back in May 2017 and consistently earned viewership. 
JerryRigEverything reached 4 million subscribers in July 2019, the year he married his long-time girlfriend, Kaylor.  
Zack Nelson's Married Life with Cambry Kaylor
Nelson and Kaylor went to the same high school. However, they never knew each other. 13 years later, the pair met on a dating app serendipitously and hit it off instantly. 
In April 2019, the YouTuber proposed to his girlfriend. And within three months, the lovebirds tied the knot. Nelson used the titanium from his girlfriend's wheelchair to create a wedding ring for her. 
"I never thought it would be something someone would want to put in their wedding ring," Kaylor shared emotionally in JerryRigEverything's video dated September 10, 2019. 
Two years after the wedding, Nelson's wife took to Instagram to announce she was pregnant. "Veggies aren't the only thing growing this summer," she humorously wrote in the caption while flaunting her baby pod on June 17, 2018. 
Since the announcement, Nelson and his partner have kept their followers in the loop about their pregnancy. And things haven't always been sunshine and rainbows. 
Through an Instagram post on September 25, 2021, Kaylor shared she was having a challenging time being 37 weeks pregnant.
As per her accounts, her legs were swollen, and they needed to be elevated most of the time. She also expressed that moving needed help, and her stomach hurt every time she moved it. 
Despite the challenges, the Equestrian rider remarked she was grateful to experience pregnancy.