Jenny Marrs and Husband Dave Marrs on Their Marriage and Relationship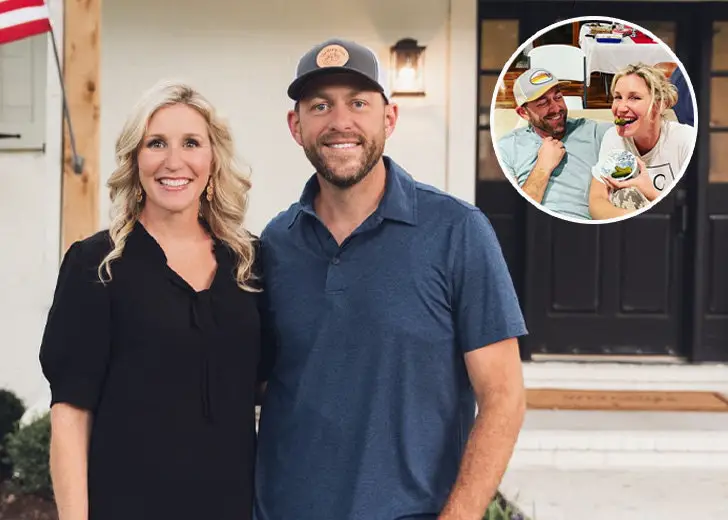 Jenny Marrs has been married to her husband, Dave Marrs, for seventeen years.
The two have a show on HGTV called Fixer to Fabulous, where they give lives to old houses. They have a company named Marrs Developing, through which the husband-wife duo restores historic homes in Arkansas.
They renovate the houses to make them home for families in their town. It is reported that the couple has restored over 300 houses in their hometown.
Alongside renovations and their work, the pair showcase their family life to their fans and followers as well. The power couple handles Marrs Development and blueberry farm while raising five children.

Jenny Marrs posing for a photo with her husband, Dave Marrs. (Source: Instagram)
Watching Fixer to Fabulous, it is obvious that Jenny and her husband have an undeniable chemistry that they have kept alive for over two decades. 
Here is everything we know about the couple!
Jenny Marrs and Her Husband Dave Marrs' Relationship
Jenny and Dave first met each other in 2002. In an interview with About You in October 2018, Dave told the story of how he met his wife.
After graduating from college, he landed a job with Newell Rubbermaid in Arkansas. But he did not enjoy the corporate job and its world.
He worked there for only two years and then moved towards building business. Those years were rough since he did not enjoy the work, but he is thankful that he got to meet Jenny through it.
The two soon started dating, and in 2004, Dave started Marrs Developing. Jenny, on the other hand, was just beginning a career in sales and marketing.
They were broke, and Jenny's job was the only thing handling their finances. She joked she was his "sugar mama" for the time being.
But soon, Marrs Developing started catching up, and eventually, Jenny left the corporate world in 2012 to support her husband full-time at his company.
She had no background in design, but she enjoyed her creativeness. Therefore, combining her and her husband's skills, the two made their company successful. 
The Marrs Family
Jenny and Dave tied the knot on April 2, 2005. They currently live in a restored farmhouse from 1906 with their children and farm animals. 
In an interview with Closer Weekly on March 24, 2022, Jenny talked about her relationship with her husband and how it adapted to their business and show.
She said that their marriage and family are why their fans are interested in the show. The duo is comfortable with each other and knows what the other is thinking.
They have "a great partnership," which helps them "encourage" and "rally each other up." Jenny and Dave have five kids together —  Luke, Charlotte, Sylvie, and twins Nathan and Ben.

The Marrs family posing for a photo. (Source: Instagram)
Four of them are their biological children, whereas they adopted Sylvie from the Democratic Republic of Congo. They came across her adoption profile on November 12, 2012, and knew Sylvie was the one for them.
They filed for paperwork finalized in August 2013, and Sylvie was finally their legal child. During that time, Jenny was pregnant with Charlotte, so her husband went to Congo to adopt Sylvie. 
He told People in November 2019 that he waited outside U.S Embassy to plead his case with the ambassador.
He was desperate to adopt Sylvie, so he was on calls with authorities like congress members and state representatives.
Finally, in July 2014, Sylvie's foster mom flew to the USA, and Jenny and Dave were united with their daughter.
Now, the family of seven lives happily together.