Jenna Bush Hager's Husband Had Set a Grand Surprise for Her 40th Birthday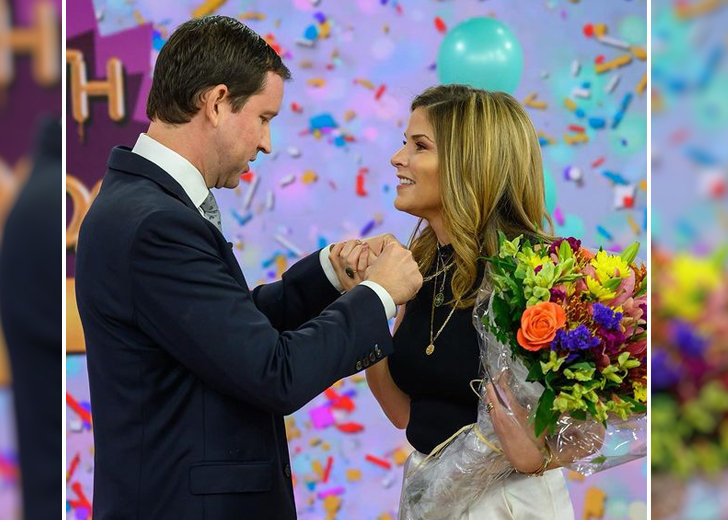 Jenna Bush Hager turned 40 on November 25, 2021, and nothing but pleasant surprises were waiting for the co-host of Today with Hoda & Jenna on the big day. 
For instance, her parents, George Bush and Laura Bush, dedicated a lovely message to her, while famous singer Reba McEntire serenaded her with a birthday song.
Besides her followers, colleagues, and family members, one particular person to go the extra length to make the milestone special was her husband of 13 years, Henry Chase Hager. 

Jenna Bush Hager and her husband on their way to the voting polls. (Source: Instagram)
Henry put on a formal ensemble with a navy-blue blazer and held on to the show's microphone to conduct a "Man With a Mic" segment that aired right in front of Hager. 
He hit the pavement, asking pedestrians random questions about his wife regarding her profession, age, and even favorite foods.   
At the end of the hilarious segment, Henry noted interviewing was tough. "I'm going to get a coffee, warm up and never try this again," he funnily added. 
Then, the doting husband also gave a shout-out to his wife and lauded her as an amazing anchor.
"You're so good at this job. I don't know how you do it," Henry mused before saying out loud, "I love you. Happy birthday!" 
Hager laughed throughout the show, and once it was over, she praised her husband. "That was so cute," she said, "I can't believe you did it."
Jenna Bush Hager and Her Husband Married in 2008
Hager and Henry met through mutual friends when Henry worked for her dad's 2004 re-election campaign. 
Meanwhile, Henry had a girlfriend. But it didn't matter after he came over to watch a Texas football game. The duo kissed, instantly hitting it off.
Within months of dating, Hager was ready to marry her future husband. She even casually proposed to him during a Christmas party. To her dismay, Henry declined, reasoning she was too young. 
Henry took his time, and the pair dated around three years before he asked for her dad's permission at first.
With his approval, he took Hager on a trip to Maine and proposed to her at the top of the Cadillac Mountain in Acadian National Park.
Without a doubt, Hager approved, and the lovebirds tied the knot on May 10, 2008. The wedding was organized on Hager's family ranch in Crawford, Texas. 
Jenna Bush Hager Has Three Kids
Bush and her husband are parents of three kids. The duo welcomed their first of three kids, daughter Mila Hager (8), on April 13, 2013.
Their second daughter, Poppy Louise (6), joined the family on August 13, 2015. Finally, they gave birth to their son, Henry Harold "Hal" Hager, on August 2, 2019.
While her first two kids were planned, Hager says her third child was a surprise, "an immaculate conception."
Understandably, she was surprised that she was pregnant. But more than that, she suffered from survivor's guilt. 
In her book titled Everything Beautiful in Its Time: Seasons of Love and Loss, Hager shared many of her friends were struggling with infertility, including her twin sister Barbara. 
Because of that, she was stressed about announcing she was pregnant with her third child. Thankfully, words of wisdom from her mom and her long-time co-host, Hoda Kotb, became her rescue. 
As a result, she felt excited about being pregnant for the third time and admittedly embraced her motherhood with no hesitation.