Is James Maslow Married to His Girlfriend?
James Maslow recently shot a wedding editorial with his girlfriend.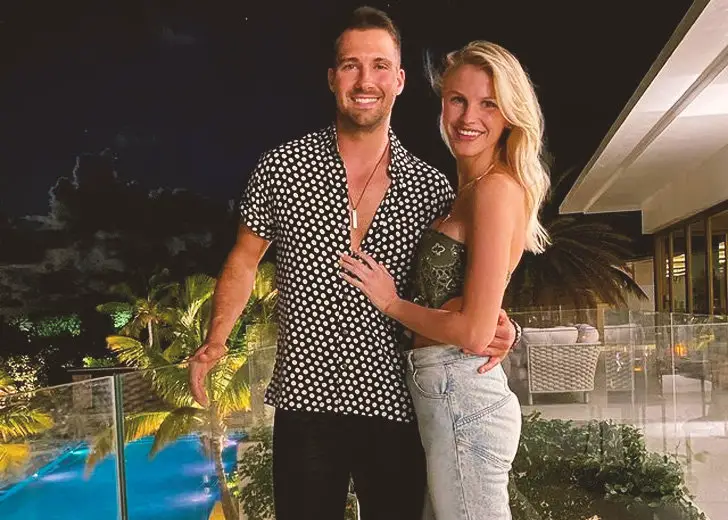 Fans who saw the stunning wedding cinematography of singer and dancer James Maslow and Caitlin Spears cannot help but wonder," is James Maslow married?"
The duo was strolling the rolling hills of Kestrel Park in Santa Ynez. Spears donned a quaint white gown which flowed behind her as she strode through the grassland, while Maslow accompanied her in a black suit set.
The video featured the picturesque garden as a perfect backdrop for the nuptials. The guest tables were decorated with cream, blush, and mauve flowers in an untamed arrangement that complemented the bride's bouquet. 
At the end of the video, the couple rode off into the greeneries in a classic Porsche Speedster. 
Unfortunately for fans wishing they were married, Maslow has not made a wife out of Spears. Instead, the duo was shooting an autumnal editorial for wedding photography and cinematography service provider, Aziz Studios. 
James Maslow and Caitlin Spears' Relationship
Last year on April 4, Maslow and his girlfriend rang in their first anniversary with sweet posts on Instagram. 
The couple celebrated their first anniversary during quarantine, and both of them took to Instagram to share their sentiments. The Big Time Rush star shared an adorable carousel of the duo, accompanied by a heartfelt caption. 
He noted that he was fortunate to be quarantined with Spears. He added how he was looking forward to many more adventures with her, even if that meant most of them were "going to be walking to the backyard and then running back to the house in fear when we hear a neighbor cough."
Spears also gave a shout-out to Maslow for making her the happiest girl in the world and noted that she too was looking forward to "another year of love, happiness, and crushing goals together."
She also asked fans to tune in to their live streaming show "Home with James & Caitlin" and thanked fans who were already watching their show. 
James Maslow's Past Relationship
Before dating Spears, the musician was dating actress Gabriela Lopez.
But on January 5, 2019, Us Weekly confirmed they had officially ended things for good after dating for about a year.
Maslow had not announced his breakup online and instead revealed it to the publication at the GBK Golden Globes Luxury Celebrity Gifting Lounge. 
He reasoned that he felt it was disrespectful to talk about it online, and he also did not want his fans to say anything negative. He had given fans a glimpse into his relationship with Lopez throughout 2018, and although he did not delete their photos immediately, he unfollowed her on the social media site. 
Maslow, who was on season 18 of Dancing With the Stars, was also linked to his partner and professional dancer, Peta Murgatroyd. But during the show, they set the rumors straight. The pair admitted they had been on a date before they were partnered, but romance never blossomed between them. 
They iterated that they found the rumors funny, and Maslow shared he was flattered to be linked to Murgatroyd.