James Charles Exposed! OnlyFans Star Ricky Murda Leaks His DMs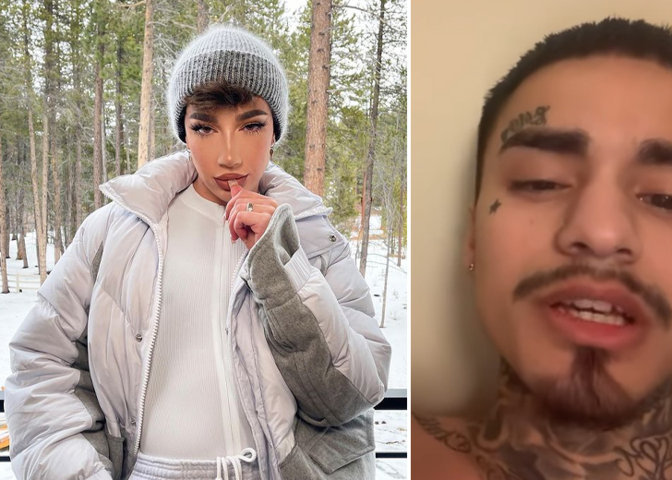 Another day, another James Charles drama!
The beauty guru has been exposed many times previously through various leaked DMs. He has also been accused of grooming minors and being a catfish to various straight men. 
This time, Charles has been exposed by an OnlyFans star, Ricky Murda. The latter's accusations and allegations include Charles trying to blackmail him via a catfish's Snapchat DMs. 
Here is all the tea. 
Ricky Murda Leaks James Charles's DMs 
Ricky Murda is an OnlyFans star who usually posts his explicit content on Twitter. Charles, infamously known for asking men for their Snapchat on DMs, texted Murda. 
On December 21, 2021, Murda took to TikTok to expose the text by Charles on his Instagram, which said, "what's your snap?" The OnlyFans star assumed Charles texted him after seeing his Twitter. 
At the time of writing, the video has over 7.8 million views. It caught the attention of the YouTuber, who once again texted Murda and shared two pictures with him. 
They contained the text messages between Charles and "Rick" where the latter had sent a nude photo to Charles. Similarly, the beauty guru is seen requesting to delete the previous TikTok that exposed him. 
Along with these snippets, Charles wrote, "It would be a real shame if I duetted your tiktok with these :)." Murda once again leaked the DMs on his TikTok on December 24, 2021. 
However, it was not Murda that Charles had exchanged messages with. It was a catfish pretending to be the OnlyFans star. 
After analyzing the photos Murda leaked on Twitter, people found out that Charles was lying. "Rick" had no tattoos on his hands, thumbs, and abdomen like Murda. 
This meant two things — either Charles was talking to a catfish, or he made one so that he could ask Murda to delete the TikTok that exposed him. 

Ricky Murda. (Source: Instagram)
Many wondered if Charles had gone back to his old habits when he used to text minors. There have been many allegations of him texting underage and young boys. 
This presumption rose because Murda's TikTok bio reads "18." While he is no longer a minor, he is still the youngest age to be classified into an adult.
Ricky Murda, James Charles, and Accusations of Blackmail
On December 25, 2021, Ricky Murda explained the entire situation on TikTok. He claimed that after Charles DMed him to ask about Snapchat, he did not reply. 
Later, the YouTuber deleted the text and blocked him. The OnlyFans star found the situation funny and leaked the texts. Soon after, Charles unblocked him and allegedly tried to blackmail him with the screenshots. 
Murda pointed out that the nude photo sent by "Rick" was not him since he had tattoos. On his latest TikTok, Murda again exposed Charles' texts where the latter said his point of view.
Apparently, after the accusations of blackmail went viral, the beauty guru texted Murda once again on Instagram. He said that somebody had texted him saying Murda's Snapchat was "rickmurdaa."

James Charles. (Source: Instagram)
In the video, the OnlyFans explained his username was not that but "rickymurda." Charles further explained in his texts that he DMed the Snapchat account to take down the first TikTok. 
However, they started flirting with the YouTuber, so he used his friend's phone to click the pictures of the texts. He clarified he did so because allegedly, straight men were attracted to him but used him for clout. 
Charles accused Murda of doing the same to him, which is why he sent Snapchat DMs' photos. He later admitted that he was talking with a catfish and said he did not want any drama. 
The YouTuber wanted the TikTok videos to be deleted, but since Murda did not, he ended his text in a passive-aggressive note, saying, "now that you have posted them [TikToks] and everyone's on your side anyway so you win."