James Charles Doesn't Care If His Eyeshadow Palette Is Sold in Marshalls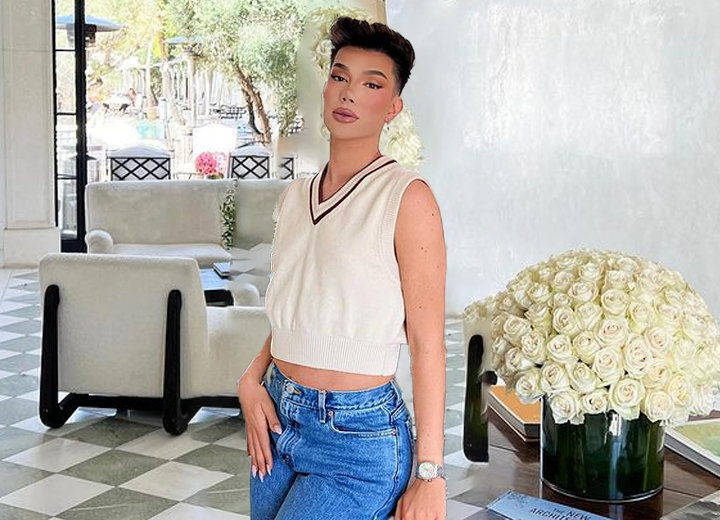 Popular beauty influencer James Charles rose to fame after sharing intricate and artistic makeup looks on YouTube. 
At the time, most influencers were teaching their audiences just how to blend eye shadows and achieve a flawless foundation base. 
But not Charles who was dabbling in artistic makeup. It was only fitting of him to release his own eye shadow palette in collaboration with Morphe in 2018. 
Called the Morphe Artistry, the 39 pan eye shadow palette had the colors of a rainbow to encourage makeup lovers to create out-of-the-box makeup looks. 
Many influencers in the beauty industry claimed the palette collaboration revolutionized the beauty community. The palette was also a huge success and was sold out four times.
It was so successful that Morphe launched a mini version for price-sensitive customers, and it was equally successful. 
James Charles's Eye Shadow on Marshalls
Although people are no longer talking about the artistry palette in the beauty community, a TikTok video has started the conversation again.
On June 28, 2021, a TikTok user named Courtney, who goes by @courtneyprevite, uploaded a video of finding the artistry palette at Marshalls (T.J. Maxx) for $16.99. 
For the unversed, Marshalls is a famous American chain of off-price department stores that offer a good bargain at shockingly great prices. 
According to the company's website, items are priced at about 20-60 percent lower than retail. 
Although it has never been explicitly mentioned, customers have a consensus that most "failing products" will end up in Marshalls. 
Unfortunately, internet trolls made fun of Charles in the comment section, leading the beauty guru to respond to the criticisms in the comment section. 
He asked the trolls to stop leaving mean comments on the video, noting it was unnecessary and promised he was not offended. 
James Charles Says It's Ok for His Palettes to Be Sold at Marshalls
Charles also took to his TikTok to make additional comments about the video. 

James Charles says he doesn't mind his eyeshadow palette being sold in Marshalls. (Source: Instagram)
He said the palette was four years old, and naturally, it wasn't popular; hence, it was being sold in discounted stores so that brands could clear the remaining stock. 
"I have been tagged in this video hundreds of times as if my palette being sold in T.J. Maxx is supposed to be super embarrassing. I don't see it that way, and in fact, I think it's really cool low key," said Charles.
He added the palette was still being sold after all these years even though most makeup product launches were only "popular for four minutes."
Speaking on the success of his palette, the beauty guru shared that millions of people bought it and said it was the biggest blessing he could ever ask for. 
Charles bought himself and his parents a house with the money from the palette sales.
And whether netizens hated him or loved him, they were getting a great formula at a super affordable price.