Jake Paul Says Girlfriend Julia Rose Is Pregnant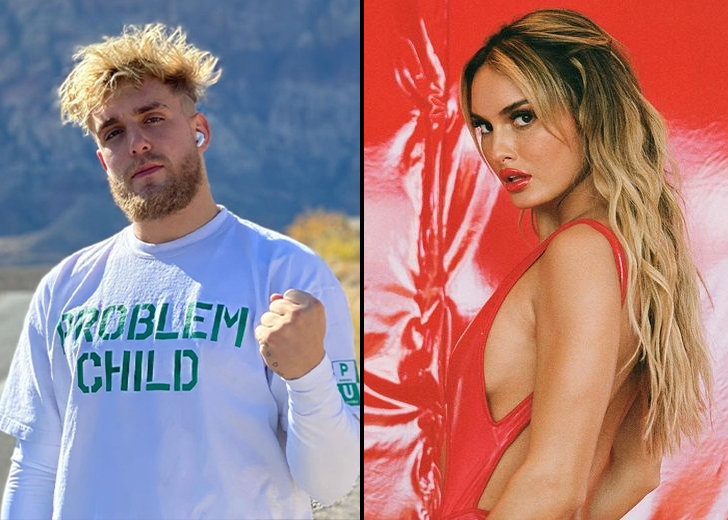 After multiple instances of joking about girlfriend Julia Rose's pregnancy, Jake Paul seems to have finally stopped kidding about the possibility.
Recently, Paul hesitated to get too close to the fans during a fan interaction, presumably because of COVID risks.
Instead, he stayed inside his car and didn't even lower the window too much.
The apparent reason? The celebrity boxer said his girl, Rose, who was in the car with him, was pregnant.
Jake Paul's Girlfriend Julia Rose Is Pregnant
Paul and Rose attended the Los Angeles Lakers' game against Atlanta Hawks on Saturday, January 8, 2022. The Lakers won the game with 134 points to Hawks' 118.
The couple sat courtside as the home team beat the visitors
The boxer even took to Instagram to post a few pictures from the match. The first picture of the photo dump showcased Rose in Paul's arms, seemingly having a good time.
They seemed happy, but it wasn't clear if that was due to the Lakers' win or something else.

Jake Paul with girlfriend Julia Rose at the Los Angeles Lakers Game on January 8, 2022. (Photo: Jake Paul/Instagram)
His brother, Logan Paul, too, was in attendance alongside him and his girlfriend.
But the big news came a while after the game was done and dusted. On January 9, Def Noodles posted a video where Paul can be seen hesitating around unknown people while inside his car.
Presumably while driving out of the arena's parking lot, Paul and his companions for the night were approached by fans and videographers.
As soon as this happened, Paul pulled down his window, but only halfway.
Then, rejecting fan interactions, Paul said, "My girl is pregnant."
Immediately after, a person taking a video of him congratulated him. But it seemed as if not everyone heard what he said.
Another guy approached the window and said something. There was a third person standing there waiting for an autograph from him.
However, the person who congratulated him repeated the pregnancy announcement and asked everyone to get away from the car.
Paul gave a fist bump to the guy, and that's where the clip ended.
This news arrives after Paul's previous announcement that Rose was pregnant in August 2021. That turned out to be just a joke, though.
Jake Paul and Julia Rose Were Ready for Kids
This baby announcement came not long after Paul publicly announced that he and his girlfriend were ready to start a family.
In December, Paul exclusively revealed to Entertainment Tonight that they were "getting there" when asked if they would get married.
"I think we both wanna take that next step," he said, referring to making things official. Right after this, he also quipped that they both "wanna have kids."
Rose, has of course, already taken his last name, at least on Instagram. She did that in early August 2021.
And he has asked her to marry him before, in the comment section of one of her posts. He also got her a promise ring that same month, which was a $50,000 piece.
The couple had been in an on-again-off-again relationship since 2020, before getting together properly a while later.