Looking Back at 'Teen Mom' Star Jade Cline's Difficult Plastic Surgery Recovery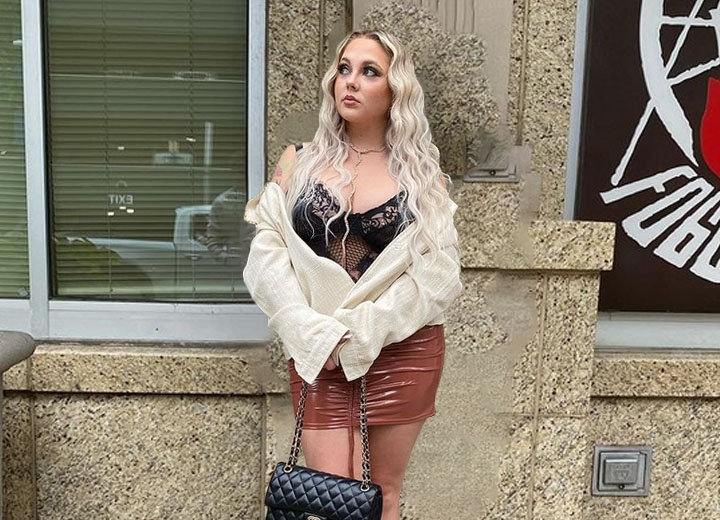 Teen Mom 2 star Jade Cline has chosen plastic surgery to get the look she wants. 
In June 2021, Cline held a Q&A session with her fans on Instagram, and a fan asked her if the doctor "really did a chin removal" on her. 
She denied getting the chin removal and said she got "some lipo on[her] neck, like underneath [her] jaw."
Apart from the fat removal, she also got a Brazilian butt lift, which she opened up about on her Jay & Kay Unfiltered podcast. 
Cline had given fans a glimpse of her ten days post-op curvier backside in a video noting she still had a lot of [bruising] and swelling. "I saw so many people I knew that were having BBLs, and I was so impressed and astonished at the shapes of their bodies," she said.
She also added that fans would get to see the transformation on the MTV show along with the ups and downs of her recovery journey. 
Jade Cline's Difficult Plastic Surgery Recovery
As shown in the reality show, the reality star had a BBL and had fat transferred to her breast in February 2021. She was extremely swollen and covered in bandages as she was wheeled off from the hospital after her plastic surgery. 
She was seen crying in the back of a minivan while lying flat on her front on a mattress as her mother and step-father took her home.
Her concerned mom, Christy Smith, asked her if the plastic surgery was worse than she thought to which she replied "yes," with tears streaking down her face. 
After arriving back at her rented house, her mother and step-father left to pick up her medications.
However, three hours later, they still had not returned, and Cline was inconsolable from the excruciating pain and her mother's disappearance. 
"I'm in excruciating pain, and my own mother is out shopping or doing whatever she wants to do. Why do I get treated like this? I don't deserve it. I always get treated like this always," Cline screamed. 
When her baby daddy, Sean Austin, called them up, Smith explained that no pharmacy had the prescribed medicines. So they drove about an hour away to find a store that had the painkillers. 
Cline's co-star Brianna Dejesus who was there for her had no choice but to call 911 as she claimed Cline's skin had turned "blue," and she was "bleeding" from having "open wounds everywhere."
Jade Cline Defends Her Plastic Surgery
Cline soon recovered from her surgery and showed off her new look with racy pictures on Instagram. 

Cline's post plastic surgery photo. (Source: Jade Cline/Instagram)
Unfortunately, the internet trolls called her a disappointment and criticized her for going under the knife. 
Fans took to Reddit and said she looked "awful" and claimed she was turning into a "bim**." 
"She looks so incredibly different in every photo she posts," one person wrote, while another stated, "she looks awful." "It's hilarious she tries to look like an IG model, but every episode of the show, she looks like a nasty bum," said a third one.
But Cline was not having any of it, especially after a difficult recovery. She noted that no mother was a disappointment to their child because their cleavage was showing and reminded netizens she was old enough to dress however she liked. 
Cline then asked followers not to post "mean" comments if they could not handle it when she returned the same energy.