Jack Harlow and Camila Cabello Seen Flirting at Met Gala 2022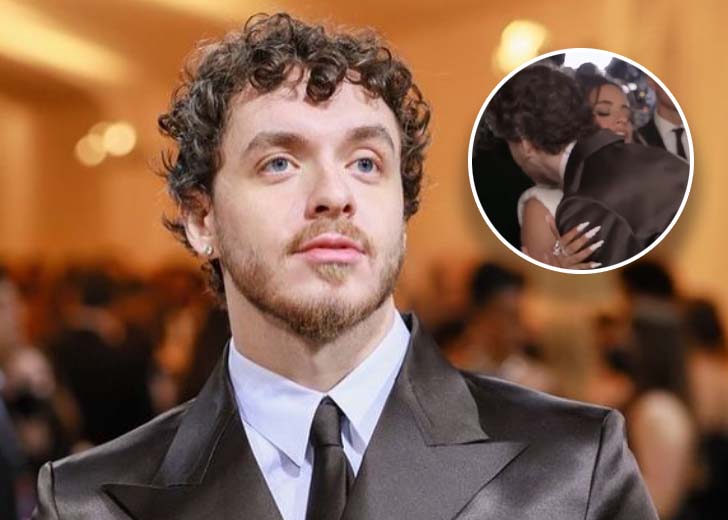 It seems like Jack Harlow is catching breaks after breaks.
Just days after Selena Gomez sparked dating rumors with the 'First Class' hitmaker, a few other names have been thrown into the mix of what looks like an endless list of dating rumors for him.
This time, his socializing at the 2022 Met Gala has generated new speculation — that the singer is trying to get with Camila Cabello. The hints come from the viral video of his interview with Emma Chamberlain at the gala.
Is Jack Harlow Eyeing Camila Cabello?
Harlow attended the Met Gala with his Givenchy dark chocolate suit and his witty personality. Then, he did an interview with Emma Chamberlain, reporting for Vogue, with slightly flirty, slightly awkward undertones.
While most were engrossed by their conversation about his dress and how good the food was there, some noticed Harlow splitting his attention between Chamberlain and someone behind her, even when he said "love you" before ending the conversation.
Then, right as the conversation ended, Harlow went straight into the arms of Cabello. And while this was all that was visible in the Vogue interview, there was apparently a bit more to their interaction when the cameras weren't around.
Enter Deux Moi.
On May 10, 2022, a blind item appeared on Deux Moi's stories whose subject read, "JH and B list singer."
"these two were flirting a lot at an after party," the tip read. "they even gave each other their numbers."
Then, to make matters clear, it referenced the interview with Chamberlain and said, "if you see a video of emma interviewing one of them, you'll know who i'm talking about.."

Blind tip on Deux Moi claims Jack Harlow and Camila Cabello exchanged numbers at the 2022 Met Gala. (Photo: Deux Moi/Instagram)
This story made the rounds on Instagram and Twitter, and while many were not that surprised, a few were infuriated at how the story called Cabello a "b-list" star.
Twitter reactions to this rumor were noteworthy, too.
Jack Harlow's 'Piece of Art' Interview
Harlow and Chamberlain's interview immediately became meme material and went so viral that the rapper had to address it on national television. He did so during his talk show debut on The Tonight Show Starring Jimmy Fallon in May 2022.
After watching the final few seconds of the clip, where Chamberlain spits as he's hugging Cabello behind her, he just left the interpretation to the audience.
"That's like a piece of art because there's so many ways to interpret that," he joked. "Everyone has a different take on what was going through her head."
Jimmy Fallon then asked if he left every interview saying "love you," to which he said, "Only if I love them. I have a lot of warmth to share."
This flirty interaction with Chamberlain, and the alleged number exchange with Cabello, came just days after his dating rumors with Gomez.
On May 9, a few screen recordings of Gomez's TikTok of her vibing to Harlow's 'First Class' started trending. With that were a couple of comments she left on his video, all of which she later deleted. There have been no follow-ups on that yet.
As for Harlow and Cabello, only time will tell if the alleged number exchange leads to anything.