The Reason Why Island Boys Walked off Impaulsive Podcast Revealed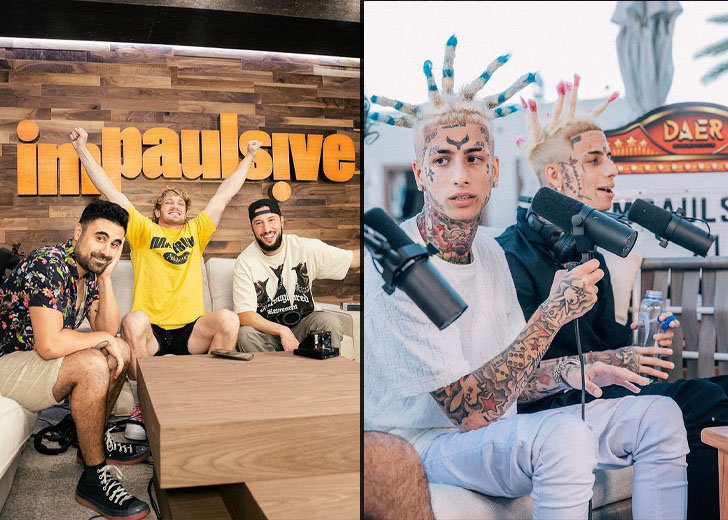 On December 12, Logan Paul sent out a promo tweet for his upcoming podcast episode. But, this wasn't any ordinary promotion.
The tweet showcased George Janko and The Island Boys seemingly arguing on their podcast.
The tweet further revealed that the artists walked off the show after the argument. But why did they leave?
Why Did The Island Boys Walk Off 'Impaulsive'?
So, what was the reason?
Impaulsive released their latest podcast episode on December 14.
At around 23 minutes in, the hosts — Logan Paul, Mike Majlak, and George Janko — started talking with TikTok sensations The Island Boys about hypotheticals.
The hosts asked what if their careers didn't work out, and the twins would be left with their unusual hairstyles and face tattoos. 
In response to this, the duo said that they had received those comments and doubts since before they became famous.
They revealed that they had been targeted with hateful comments since they were 18 years old.
Even when they were living in the "ghetto" in the middle of Palm Beach, Florida, they faced similar, if not worse, comments.
But they persevered and got to where they were at the time. They said they proved a lot of people wrong to date.
But this is apparently where things started going downhill.
After these comments, Janko pitched in, seemingly trying not to be offensive.
He said that if things went badly for the duo in the future, they could still liquify their jewelry assets, including their permanent Johnny Dang teeth, invest them, and live off that.
This comment ruffled the artist's feathers. After this, one of the twins told Janko to "stop talking," and added that they did not need financial advice speculating they probably made more money than the host.
Things went haywire, and Janko and the twins started going at each other with snarky comments and insults.
The Impaulsive host brings up the duo's beef with the Nelk Boys.
In this process, a few seconds later, they threatened Janko with a walk-out if he kept talking.
Immediately after this, they stood up and walked away, with Janko even moving out the table for them.
George Janko and the Island Boys Keep Feud Going Off-Camera
The Island Boys went off-camera but returned just moments later to continue their argument with Janko. And this time, the duo's manager joined in too.
But Janko was having none of it. He still kept asking what he said that was offensive and shut down their manager.
Then, one of the Boys started threatening Janko with comments like, "you know I'm thugging bro, right?"
He also accused Janko of showing off and talking back because of the cameras.
Right at this moment, Paul takes charge of the situation and ends the argument by saying, "We're done."
He thanks the Boys for coming, and they respond, saying it was fantastic being there.
The Hosts Discussed the Argument after The Island Boys Leave
After the Boys leave the scene, Paul, Majlak, and Janko discuss what had just happened.
They collectively conclude that Janko did nothing wrong.
Paul said he was building on a question he asked, and he was not offensive.
Majlak then diffused the situation, saying no one was more excited for The Island Boys than Janko. Everybody started laughing.
Paul analyzed the situation and said what the Boys did was a schtick, and they were trending because they created arguments and conflict.
Janko, however, was sad. As he put it, it was the only time he was excited to meet somebody, and they turned out to be not good people.