Isla Fisher Has Often Been Misidentified as Look Alike Amy Adams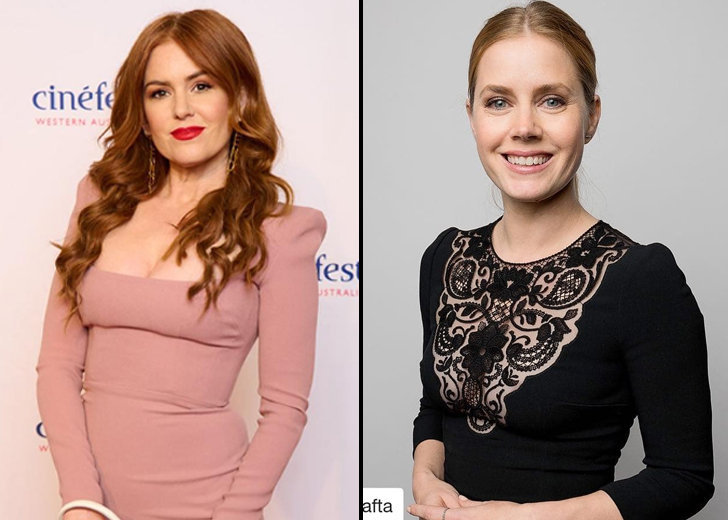 Isla Fisher has often been mistaken for her celebrity look alike, Amy Adams. From their hair color to much of their facial features, the two actresses share a great deal of resemblance.
Furthermore, both Fisher and Adams starred in the 2016 thriller Nocturnal Animals.
Because of these reasons, Fisher has been mistaken for Adams not just by her fans but also by other well-known personalities.
When talking to Jimmy Kimmel, Fisher previously recounted a story of how Lady Gaga had approached her at the 2014 Vanity Fair Oscars after party thinking she was Adams.
"I was there, all excited and dressed up at the bar and, you know schmoozing with showbiz types, and the crowds parted and there was Lady Gaga," she shared.
"And she's heading right towards me, and she says, 'Thank you. Your performance in American Hustle, Amy, was…' And I'm thinking, 'Oh my gosh, it's Lady Gaga. I love her so much. I don't want to tell her the truth.'"
Adams walked into the party right at that moment, and Fisher shared she passed off Adams as herself during her conversation with Gaga.
The Confessions of a Shopaholic actress also noted that Gaga never figured out her true identity but assured "she would now," as she told the story on live television.
Isla Fisher Is Amy Adams' Look Alike
Aside from Gaga and fans of herself and Adams being unable to identify between the two, even friends and family have failed in telling the two apart.
In a separate interview with the US Today show in November 2016, she revealed she stuck Adam's face over hers for her family's Christmas card, and no one noticed.
"I cut-and-pasted Amy Adams' face over mine, so it was Sacha, Amy and the kids, and then we said, 'Seasons greetings from Sacha and Isla,' and no one noticed," she shared.
"Everyone was like, 'Oh, your card was so cute.' I was like, 'It was a joke, it's not me, it's Amy!'"

Isla Fisher with husband Sacha Baron Cohen (Source: Instagram)
When talking to The Project, Fisher noted she wasn't mistaken for Adams in a while because she hadn't gone out much during the pandemic.
She also added that they had learned to laugh about it. "We laugh about it because Amy has blue eyes and I've got brown. Our husbands have laughed about it, too."
Isla Fisher and Amy Adams Are Not the Same People
Fisher has shared stories of being mistaken for Adams frequently. Adams also talked about it, saying she could understand why but still didn't get it.
Adams also noted that she didn't mind the comparison, as she could be "mistaken for a lot worse people."
Fisher has also joked about the comparisons. She even made a funny PSA about the topic in the aforementioned talk with Jimmy Kimmel.
There, she made various comparisons between herself and Adams. For example, she noted Adams had "auburn red hair" while she had "light auburn red hair."
Adams played Susan in Nocturnal Animals while she played Laura in Nocturnal Animals.
After making a few more funny remarks about the resemblance between herself and Adams, she ended the PSA by saying that while it might be difficult to differentiate between them, they were totally different people because they had totally different names.