Sacha Baron Cohen and Isla Fisher's Relationship Timeline as They Celebrate 20 Years Together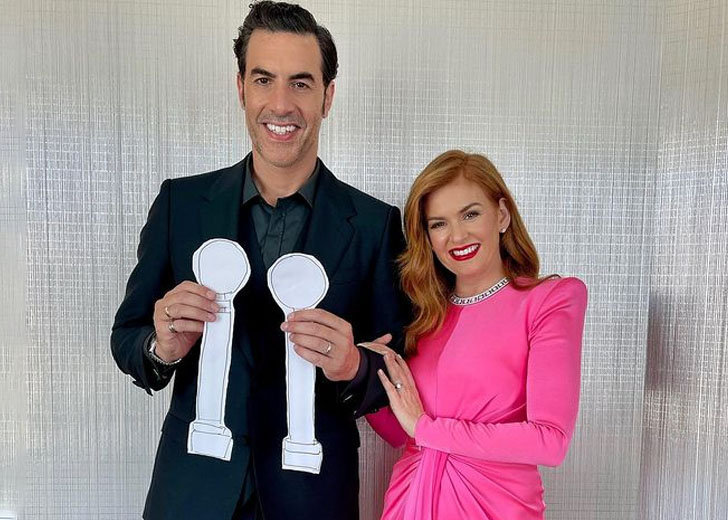 Sacha Baron Cohen and his wife Isla Fisher have been together for two decades.
The married couple celebrated their 20 years together by sharing a gallery of pictures and matching captions on their socials on December 8, 2021. 
"Happy Anniversary," they wrote on the posts. The pair also added a Winnie the Pooh quote that read, "If there ever comes a day when we can't be together, keep me in your heart. I'll stay there forever."
While Fisher uploaded the post with just that caption, Cohen added an extra message for his wife. "Happy Anniversary my love," he penned, joking he was writing it rather than getting her a card.
The Dictator actor also quipped that their relationship lasted mainly because of their location. He humorously explained Hollywood was the bastion of lengthy marriages. 
Needless to say, the pair has been in an enduring relationship that dates back to the early 2000s. 
Sacha Baron Cohen and Isla Fisher Met in 2001
Cohen met his future wife while attending an event in Sydney, Australia, in 2001. And the famed actor admittedly already knew Fisher was the "one for him" during their first encounter. 
"I knew instantly. I don't know if she did," Cohen admitted during an interview with The New York Times in October 2020.
He jokingly mentioned that his partner took about 20 years to realize it.
After dating for a few years, the pair secretly got engaged in 2004.
Sacha Baron Cohen and Isla Fisher Welcomed Their First Kid
Cohen and his fiancée welcomed their first child, daughter Olive, in October 2007.
While the pair had kept their pregnancy a secret, it became public knowledge when the actress attended the Los Angeles premiere of Hot Rod with her budding baby bump in July that year. 
During a press event for the movie, Fisher expressed she was elated about becoming a mother. She mentioned she had no plans to return to work right after giving birth.
Sacha Baron Cohen and His Wife Married in 2010
Cohen and Fisher married through an intimate Jewish wedding at The Ritz Paris on March 15, 2010. 
Long before they officially tied the knot, Fisher had converted to Judaism in honor of her partner.
"I would do anything — move into any religion — to be united in marriage with him," she expressed in an interview with the Evening Standard in 2004. 
She revealed she converted during their first three years after their engagement.
Sacha Baron Cohen and Isla Fisher Gave Birth to Two More Kids
Over a year after their wedding, Cohen and his wife welcomed their second daughter, Elula, in October 2011. 
Then, Fisher pulled out of a role for the sequel of Now You See Me in October 2014. At the time, US Weekly reported she was pregnant with their third child. 
A source close to the couple told the magazine that Fisher knew she wouldn't be able to do the movie. The production would have started in November, and she was already three months pregnant. 
As reported, the married duo gave birth to their third child, son Montgomery Moses Brian, on March 17, 2015. 
Sacha Baron Cohen and His Family Moved to Sydney
Cohen and his partner always wanted to live in Australia. For this very reason, they moved from Los Angeles to Sydney and enrolled their children in schools there. 
In an interview with Stellar Magazine (via DailyMail) in March 2021, Cohen's wife discussed why her family made a move across the Pacific. 
"I just feel so safe, I suppose the word is cozy when I'm in Australia," she reasoned, adding that it was where she grew up. 
The mother-of-three also stated that she felt the happiest when at home.
As per her accounts, she didn't feel any pressure in Australia. She could do anything and didn't even have to wear shoes all the time.