Iris Apatow and Ryder Robinson's Anniversary Posts Are All Kinds of Adorable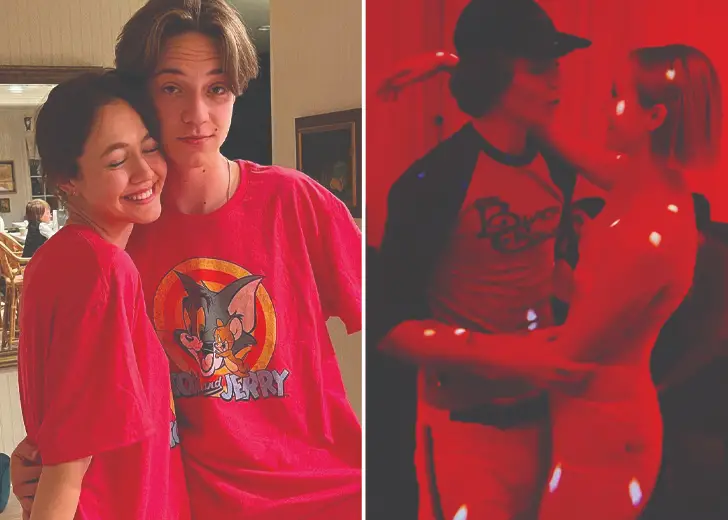 Iris Apatow and Ryder Robinson celebrated their anniversary on April 30, 2022. Although nobody quite knows how long they've been going out, their bond makes it look like they've been together for a long time.
And so do the things they posted on their anniversary posts. Apatow and Robinson dumped a whole lot of cuteness onto all of us through their posts on their special day.
Iris Apatow and Ryder Robinson Celebrate Their Anniversary
Both Apatow and Robinson took to Instagram to post their picks of the special moments they have shared during their time together. It was a nice way of marking their anniversary.
Apatow wrote, "Happy anniversary my sweet," followed by a red heart emoji as the caption for her post. Her caption accompanied four cute pictures and videos.
The first one of those was a selfie by Apatow. The child actress, with a red sweater on, was winking at the camera as her boyfriend faced the opposite way, hugging her.
The next slide was a video of them slow-dancing to a tune, with the red background supporting the romantic theme of what was happening.
The third slide was just a candid of the two, intimate again, as they hid their face with their palms. The bubbles floating around, too, provided some aesthetic distraction. On the bottom right was a date label that read "08/08," but the year it was taken wasn't visible.
For the final slide, Apatow just put up a video of Robinson, dressed in a light pink sweater and black pants, dancing and vibing to a funky tune. A disco light added to the overall vibe.
Robinson's post was similarly adorable but with snaps distinct to hers. He posted a picture of the two dressed in matching pink Tom and Jerry t-shirts and a picture from the same time as recorded in the slow-dancing clip she posted.

Iris Apatow and her boyfriend, Ryder Robinson, look cute in matching Tom and Jerry t-shirts. (Photo: Ryder Robinson/Instagram)
The other two pictures were of Apatow having a moment with his mother, Kate Hudson, and with his dog.
"Happy anniversary my love," Robinson captioned the picture, with Apatow responding with an "I love u!" in the comments.
Both their posts were filled with congratulatory, appreciative comments. Paris Hilton wished them a happy anniversary and Olivia Rodrigo just shipped the couple, writing "irie and rydie" with a few teary-eyed emojis on her post.
Her mother, Leslie Mann, sister Maude Apatow, and Hudson, all chimed in with cute messages for the couple, many just using plenty of red heart emojis to express their support.
Iris Apatow and Boyfriend Ryder Robinson's Relationship
Apator and Robinson first went public with their relationship on 2022 Valentine's Day. However, the couple has been dating since at least early 2021.
When they first made their romance official, an insider confirmed to People that the two had grown up together. They even attended the same school in Santa Monica and knew each other for a while.
Since then, neither Apatow and Robinson nor their families have been shy in giving details about the pair. In March 2022, E! News reported that Mann was all for their relationship and approved of Robinson.
Maude, too, was supportive of their romance. "She's the first person to be like, 'He's the best,'" Apatow told E! News.