Inside Ingo Rademacher's Family of 5 with Wife Ehiku Kaono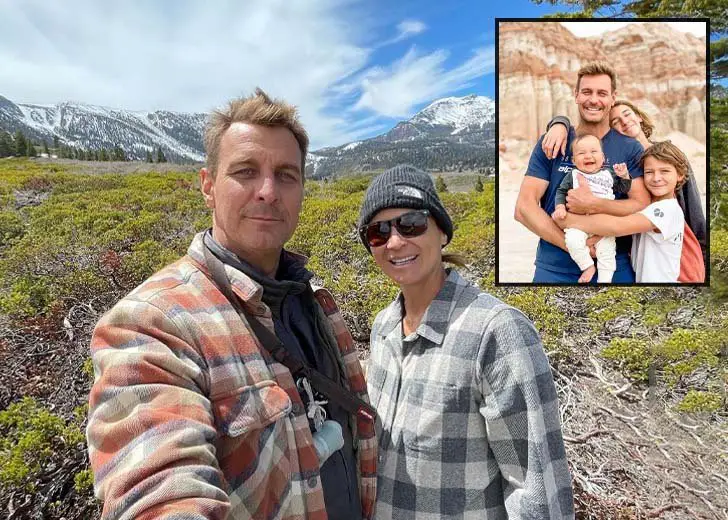 Ingo Rademacher was fired from the longest-running American soap opera General Hospital last month after reportedly refusing to comply with the production's vaccine mandate. He had been a series regular as Jasper "Jax" Jacks since the late 90s.
He filed a lawsuit against Disney subsidiary ABC over its coronavirus vaccine mandate following his exit.
In a recent interview with Tucker Carlson, Rademacher also clarified that submitting to the injection would have led him to go against many of his beliefs, including religion.
Ingo Rademacher Wanted to Follow His Family's Life Tradition
Rademacher implied that his elderly parents, who presently live in Germany, hiked every day in the Alps and are on zero pharmaceutical medications even at their advanced age.
He believes his parents were healthy because of their longstanding use of homeopathic and other remedies for illnesses.
He continued to note that the injections from Pfizer, Moderna, and Janssen/Johnson & Johnson, however, went against that life tradition, and the mandate effectively canceled out a human being's individual body sovereignty.
"To me, it's staying healthy and dying healthy as well," the television actor added. "Being injected with something like this COVID vaccine – personally, I don't think I need it, and I think I should be able to make that choice."
He even stated that by submitting to the production's demands, which in turn are strongly supported by the federal government, he would give away his body to officials in Washington, D.C.
"If we don't choose what to put in our bodies, we don't own our body. The government owns you," Rademacher said. "It's so frustrating."
Ingo Rademacher Grew up in a Well-To-Do Family — His Age and Bio
Rademacher is an American actor who comes from German roots.
The former Dancing with the Stars contestant was born in Iserlohn-Letmathe, West Germany [now in Germany] on April 22, 1971, making him 50-year-old at present.
Growing up, Rademacher was blessed with a well-to-do family with loving parents and an adorable sister.

Ingo Rademacher enjoying a trip with his family. (Photo: Instagram)
He spent most of his childhood in Australia, where he lived in a 400-acre cattle and Angora goat station. His childhood luxury also led him to his lifelong love affair with water sports.
Rademacher also had an interest in modeling and acting; hence, he spent the early days of his career modeling in Brisbane and Sydney.
He subsequently landed in his first acting role playing Sean Hayden on the Australian series Paradise Beach in 1993.
A year later, Rademacher traveled to Los Angeles and was immediately offered the role of Jax on General Hospital.
Since then, he has appeared in movies and TV shows like Titans, Hawaii Five-0, The Bold and the Beautiful, and A Royal Christmas Ball.
He was also a contestant on season 16 of Dancing with the Stars, partnering with two-time champion Kym Johnson. He finished the show in fifth place.
Ingo Rademacher Has a Healthy Net Worth
Besides acting, Rademacher is an entrepreneur and the owner of an activewear store in Hawaii, along with his wife.
With all his endeavors, the University of Australia - Brisbane alum reportedly has earned a healthy net worth of $2 million — according to Celebrity Net Worth.
A quick scroll through his social media, especially Instagram, shows that he manages a luxurious lifestyle and owns fancy bikes and cars.
In his April 2021 Instagram post, he showed off his new Triumph Thruxton TFC bike, which he received from his wife on his birthday.

Ingo Rademacher's wife gifted the actor a bike on his birthday. (Photo: Instagram)
Ingo Rademacher and His Wife Recently Celebrated Their 12th Anniversary
Rademacher has been married to his longtime wife, Ehiku Kaono Rademacher, since 2009.
They first came across each other on the beach in Hawaii circa 2006. At the time, the actor had just purchased a new house there. 
Five months later, they again encountered each other while she was on a workout run at Waimea bay with a friend, and Rademacher was just walking around.
"It took another 3 month for her to agree to a date....the rest is history," the actor shared in his anniversary post in 2018.
On October 3 this year, Rademacher and his wife completed their 12th wedding anniversary, and the actor's wife was quick to express her happiness on social media.
Ehiku, the co-founder of Mahiku Activewear Hawaii, took to her Instagram to post a series of the couple's pictures from over the years while writing, "Happy Anniversary Honey...you swept me off my feet 16 years ago and are the love of my life. Married for 12. I can't believe it."
The first picture in the slideshow was from their wedding day, where the husband-wife-duo wore matching white outfits. In the snap, Rademacher carried Ehiku in his arms.
Ingo Rademacher and His Wife Are Blessed with Three Kids
The couple's wedding ceremony was held overlooking the Pacific Ocean at Point Dume, a year after they gave birth to their first child, Peanut Kai.
Rademacher and Ehiku then welcomed their second son, Pohaku Zen, at their home in Hawaii in 2012.
The family of four was blessed with a new member again this year — making them five now. The couple had their third child, a daughter named Iwa Lehua Rademacher, on June 5, 2021.
The TV actor announced the news of his daughter's birth on Instagram, writing, "Born at home, very very early in the morning on Saturday. We're all super tired but Baby and Mom are doing awesome."
In his post, he also implied that it was another successful home birth of his child, reportedly like his previous two children.
Adding to that, the actor preferring a home birth for his children suggests that he genuinely believes in homeopathic remedies for a healthier life — as he said while going against the coronavirus vaccine mandate.