Tucker Carlson's Wife Helped Him Strengthen His Faith And Career
Tucker is the host of FOX News Channel's Tucker Carlson Tonight, where he analyses and debates with the show's guests. However, he would not have been where he is now if it was not for his wife's love and support. His wife has always been there for him in every path of his life. Tucker has now been married for over 29 years to his wife, Susan, and together, the couple shares four children.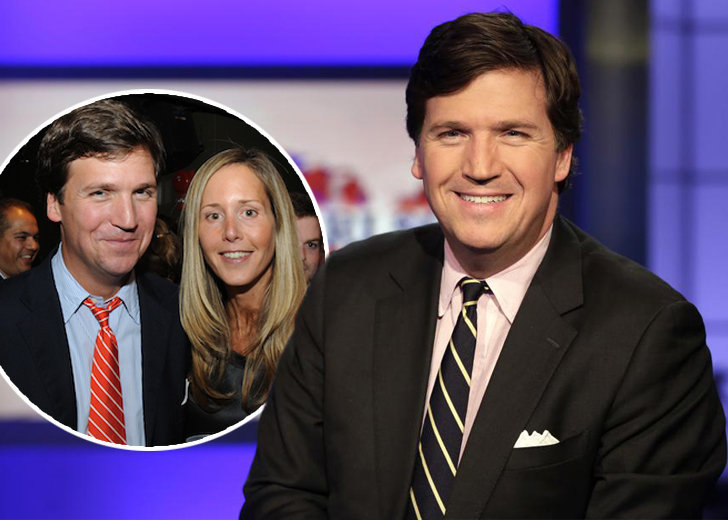 The quote "Behind every successful man, there is always a hand of a woman" perfectly implies in the case of the FOX News pundit and journalist, Tucker Carlson. He has been married to his wife, Susan, for over 29 years. And, during all these years, his wife has always backed him up in every way possible.  
Tucker And Susan Are High School Sweethearts
The now-married couple, Tucker Carlson and Susan Andrews Carlson knew each other since their teenage years. They first met each other while they were in 10th grade at St. George's School.
Speaking of their first meet, while talking to People on November 6, 2000, the political commentator said that Susan was probably the cutest 10th grader in the whole of America. In reply, Susan quoted that:
There was a bounce in his walk. He was in his khaki pants and ribbon belt and I thought, even then, he seemed so optimistic and positive.
Just before completing his graduation from Trinity College, in 1991, the primetime Fox News host mustered up the courage to ask Susan's father her hand in marriage. In August 1991, they shared the wedding vows.
It has been 29 years since their marriage, and together, the duo has raised four children, a son named Buckley Carlson, and three daughters named Dorothy, Lillie, and Hopie Carlson. As of now, the family of six reside happily in Washington DC.
Susan Andrews Carlson's Family Has Helped Tucker A Lot
Since his college days, Tucker Carlson's now-wife, Susan Andrews Carlson, and her father, Reverend George Andrews helped him whenever needed. When Tucker was struggling to continue his further studies, his wife's father, also his highschool headmaster, assisted him during enrollment at Trinity College, Hartford. 
Later, during the late 1990s, after Tucker married Susan, Susan left her job as a teacher so that she could properly raise her three children, and Tucker could keep on working.
Apart from giving up her job, Mrs. Carlson also weathered tougher times alongside her husband. When his show 'Tucker' got canceled back in 2001, the right-wing host almost became depressed. As a NewYorker article suggests, Tucker felt stranded after losing his job in New Jersey, as a result, the entire family relocated back to Washington. Nevertheless, Susan never gave up on Tucker and maintained her faith in him.
In the same article, Susan is also credited with strengthening the American conservative television presenter's faith. They are both Episcopalians — a member of the worldwide Anglican Communion in god.
Tucker Carlson's Parents Separated When He Was Six
Born in 1969, Tucker Carlson is the oldest son of Lisa McNear Carlson and Dick Carlson, a former CEO of The Corporation for Public Broadcasting who also used to direct the Voice of America. 
Unfortunately, his parents separated when Tucker was just six years old. During an interview with The New Yorker in 2017, he mentioned the time was a totally bizarre situation, one which he never likes to talk about. After four years since the separation, senior Carlson married Patricia Swanson, Tucker's stepmom. Patricia is the daughter of Gilbert Carl Swanson and the heir/heiress of her father's Swanson Enterprises.
Unlike his parents, though the famous/infamous journalist has maintained a long and healthy relationship with his partner, both of whom have stuck together through thick and thin since they were mere teenagers.