iDubbbz and His Wife Met Because of a Hotel-Booking Error at TwitchCon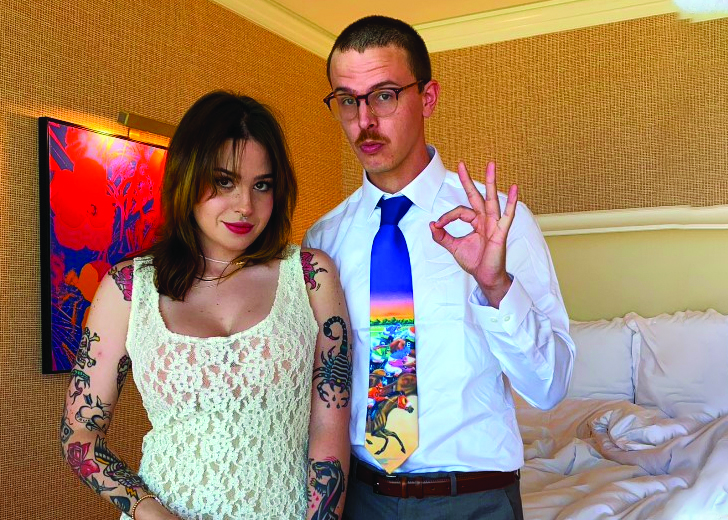 iDubbbz, Ian W, or Ian Carter. Whatever you want to call him, he is one of YouTube's most famous creators.
The creator of 'Content Cop' video series is a married man and has been with his wife, Anisa Jomha, for quite a while. They first met at TwitchCon and immediately hit it off.
However, theirs wasn't a planned meeting. It all happened because she messed up her hotel reservations.
How iDubbbz and His Wife Anisa Jomha Met
iDubbbz and Jomha are both content creators. They are both big on Twitch and have been on the streaming platform for quite a while.
So it is no surprise that they would meet each other for the first time at TwitchCon. However, the way their first meeting happened was very lucky.
During an AMA in January 2017, Jomha let everyone in on how she met her now husband.
At the 6:30-minute mark on her AMA part 2 video, she revealed she met iDubbbz, or Ian, at TwitchCon, although she did not mention which year. For attending the massive gathering, she booked a few days and nights at a hotel.
However, "being an idiot," she booked her room for a day and a night extra. She was stuck there, and as the streaming festival was over, everyone else had left.
At the hotel, alone and with nothing to do, she went on Twitter, where she saw iDubbbz spam-tweeting. She immediately assumed he was bored, too.
She also knew he lived in San Diego. So, thinking maybe he wanted to hang out, she shot him a text. He responded with an offer for lunch.
He took her to a hole-in-the-wall taco place, but she was "too nervous to eat." So, she just got a drink instead, and they got to talking.
Their conversation lasted for "3 or 4 hours" and she said they "just clicked really, really well."
After getting food, they went to his car, their conversation still not dead. But when he suddenly took out his car keys, she thought maybe he had had enough of her. Things became awkward immediately.
He drove her to her hotel, and they parted ways with an awkward hug. She assumed he would never text her again, but he, too, thought the same — maybe she was not interested in him.
But, to her surprise, he sent her a text back saying he had reached home safe. Their conversations picked up again, and they have been together ever since. When she uploaded the video — on January 27, 2017 — she had just relocated to San Diego.
iDubbbz and Anisa Jomha's Love Life and OnlyFans Controversy
After being together for around four years, iDubbbz finally proposed to Jomha in April 2021. The couple announced their engagement on April 24, 2021, taking to TikTok and Twitter to show off her engagement ring.
On her Twitter post, Jomha revealed he had proposed to her after a Demon Slayer movie.
They eloped and got married in Las Vegas in June 2021. She again went on Twitter to announce their nuptials.
"We eloped yesterday and now thanks to Elvis and the state of Nevada we are officially married," she wrote on her wedding announcement, posting four pictures in their wedding dresses.
He wore a simple shirt-pant combination with a funky tie, and she wore a patterned sort-of-see-through dress.

iDubbbz with his wife, Anisa Jomha, on their wedding day in June 2021. (Photo: Anisa Jomha/Twitter)
The couple's relationship has not been without hardships, though, something iDubbbz is well-versed with.
In March 2020, iDubbbz was trolled on the internet after the netizens found out Jomha had started an OnlyFans account a while before. He was called a "simp," in this case implying that he was the weaker or the more submissive one in his relationship with his then girlfriend.
When the trolling first started, the popular YouTuber went along with the ribbing and the memes people were making about him.
However, after a faction on the internet was taking things too far and was even "personally devastated and betrayed," as he would say in his response video on March 28, 2020.
Going into the whole controversy and people being mean and offended by his then girlfriend joining the adult content platform, he said, "I love my girlfriend, and I'm totally fine with it. It doesn't affect me. If you are upset by me admitting this, then I suggest you go idolize someone else."
A few other YouTubers, the most notable being PewDiePie, chimed in on the controversy, but the fiasco ended shortly after.
As for the couple, they are still together and post regularly about one another on social media. She is also still active on OnlyFans.