Hunter Schafer Spotted Holding Hands with 'Euphoria' Co-star Dominic Fike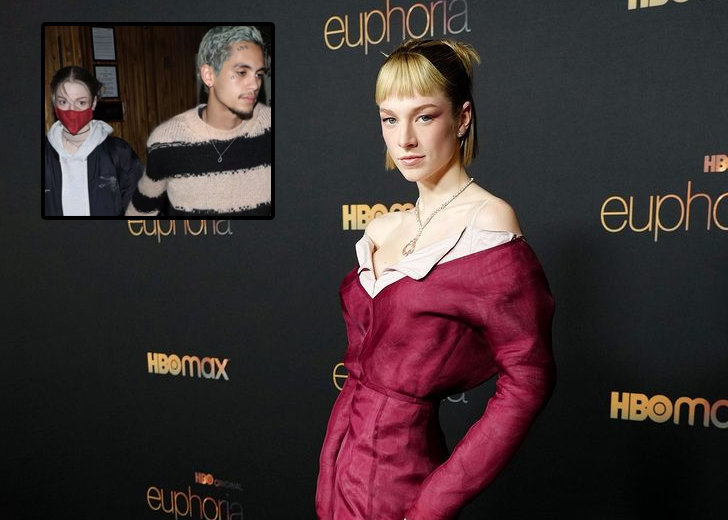 Hunter Schafer and Dominic Fike were spotted holding hands after attending a dinner on January 16, 2022, in West Hollywood.
Euphoria star Schafer's fans speculate her to be dating her co-star. 
The Euphoria actors were spotted coming out of a restaurant while holding each other's hands, and that's when the dating rumors hit an all-time high.
It looks like Schafer is finally letting her fans drool over her relationship status. And Euphoria fans couldn't be more euphoric about it.
However, both Schafer and her rumored boyfriend, Fike, have not confirmed their relationship in any manner.
Nevertheless, their fans are all excited and expect them to announce that they are dating.
Is Hunter Schafer Dating Her Co-star? 
Schafer has been with the series since its commencement. She has also been on the news and created quite a stir with her gender preferences.
She claimed once that she is "closer to what you might call a lesbian," according to Dazed.
After the statement, she vaguely clarified that she might be bisexual or pansexual through a tweet.
Some fans replied to it mentioning that every transgender woman was a bit unsure about their sexuality. 
The tweet was later deleted. However, all things aside, she proudly identifies herself as a transgender woman.
Euphoria is her first on-screen engagement, and her role is basically her own identity.
Schafer told Variety that the role was essential to her as she felt the series was so much more than just a lamentation over gender struggle. 

Photo of Euphoria actors Hunter Schafer and Dominic Fike holding hands that sparked dating rumors. (Source: Instagram)
The series has explained that there need to be more roles where trans people deal with issues other than just gender.
The actress also said the series changed her thinking process, and she worked really hard to solidify her identity and continue evolving. 
In an interview with W Magazine, Schafer discussed how her first girlfriend helped her adjust to her new identity.
She also recalled the time she was dating a trans girl who again introduced her to another trans girl. 
While all this explained her gender preference, she perplexed her fans by hanging out with her co-star, Fike. They were enjoying dinner and having a good time together.
But, no relevant source or information has revealed them to be dating for certain.
Hunter Schafer and Her Homie In 'Euphoria' — Dominic Fike
Fike, who has his interests in music and has given some great hits, can be spotted on the sets of Season 2 of the hit show
He recently joined the series and has described his character as a "homie" who hangs out with Schafer's and Zendaya's characters. 
He told Variety that the series felt like an extended music video to him, and he had never considered himself an actor before his role on the HBO's hit series.
The singer-turned-actor was in a dilemma, but he bagged the role, which reminded him of his "younger self."
However, he added he didn't have to act much because his character in the series justified him.
He said since he has found comfort in acting, he might be doing more of it as his profession and not just a side gig.
Meanwhile, his musical career is also in full swing, and he has made some reputed collaborations with artists like Halsey, Remi Wolf, and many more.
Beatles legend Paul McCartney also featured him as the face of his new album.