Hilaria Baldwin Reveals the Gender of Her Seventh Baby via Instagram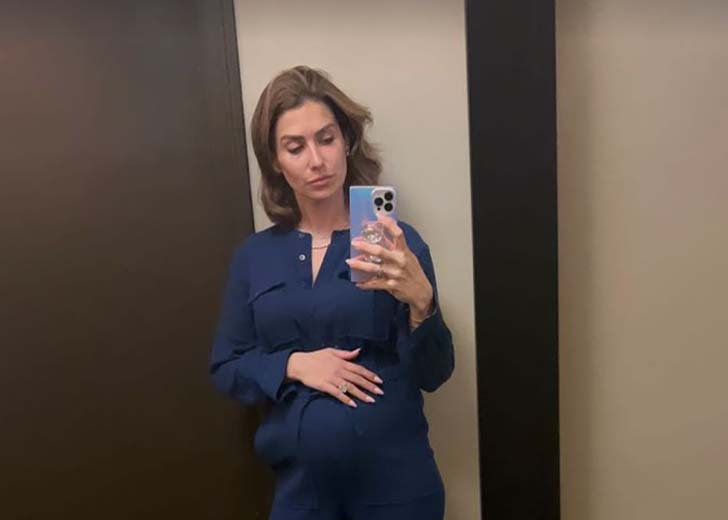 Hilaria Baldwin, Alec Baldwin's wife, is more than ready to welcome her seventh child into the world. Before each one of her kids' birth, she has always been excited about finding out their sex.
For her seventh baby, however, she is doing things a bit differently. The entire Baldwin family recorded clips of them uttering words of wisdom for the inbound little one, which Hilaria posted on her Instagram.
Their combined words echoed one message — one characteristic does not make or break a person.
Hilaria Baldwin Reveals the Sex of Her New Baby
On May 9, 2022, Hilaria posted a minute-and-half long video on her Instagram with a long caption with to go with it. In the caption, she expressed what she was feeling about welcoming her seventh child and how the whole family was excited about the little kid's arrival.
"It's always been both fun and meaningful for me to find out what is the sex of my baby, yet, as I grow and learn, I want to do it a bit differently this time around," she wrote and talked about the things that could make her child feel all the right emotions in life.
"We can only guide, encourage their spirit, listen, share our experiences, and learn from them, as we watch their own journey. We can provide as good a life as we can, but the rest is up to our baby to discover their own, unique self," she added.
After this, she went on to explain what the video was about — her family's "hopes and wishes, encouragement and advice for our new baby." Hilaria was proud to hear what their kids had to say in the video and wanted everyone to help her welcome the little bundle of happiness into the world.
In the video, Hilaria, Alec, and their six children gave advice to their arriving sibling.
"One characteristic doesn't define you," Alec said as Hilaria added, "Feel free to immerse in and express all parts of your identity without being shamed, limited, or bullied. You don't have to prove yourself to anyone."
Finally, she revealed the gender of her seventh child — a girl. "I can't wait to meet you, my daughter," she said.
Hilaria Baldwin and Husband's Family Life and Latest Pregnancy
Hilaria and Alec announced they were pregnant with their latest addition in March 2022. In an exclusive statement to Entertainment Tonight, they said they and their children loved being a part of a big family and were excited to welcome the new one.

Hilaria Baldwin with her six children with her husband, Alec Baldwin. (Photo: Hilaria Baldwin/Instagram)
Both in their statement and an Instagram post later, they revealed their daughter was due in the fall of 2022.
"We were pretty sure our family was complete, and we're beyond happy with this surprise," she said in her pregnancy announcement post on March 29, 2022.
With this kid, Alec will become a father of eight — he has a daughter, Ireland Baldwin, with his former partner Kim Basinger.
Alec and Hilaria first started going out in February 2011 and by the time summer arrived, they had moved in. He proposed at a lighthouse in April 2012 and got married on June 29, 2012, at the Basilica of St. Patrick's Old Cathedral in New York City.
On August 23, 2013, they welcomed their first kid, Carmen Gabriela Baldwin. Son Rafael Thomas Baldwin arrived on June 17, 2015.
September 12, 2016, saw the couple give birth to their third kid, Leonardo Ángel Charles Baldwin, and May 17, 2018, was the birthday of Romeo Alejandro David Baldwin.
2019 was a bad year for Hilaria as a mother. She suffered two miscarriages — one in April and another in November.
But the couple had not given up on their attempts to keep expanding their family. And thus, September 8, 2020, marked the arrival of their fifth kid, Eduardo Pau Lucas Baldwin.
Finally, in March 2021, they had their sixth kid together — daughter María Lucía Victoria Baldwin. This time, they had their kid via surrogate.