Heather McDonald Calls Out Chrissy Teigen on Her 'Manipulative' Instagram Tactics
Chrissy Teigen and Heather McDonald are in the middle of an Insta feud.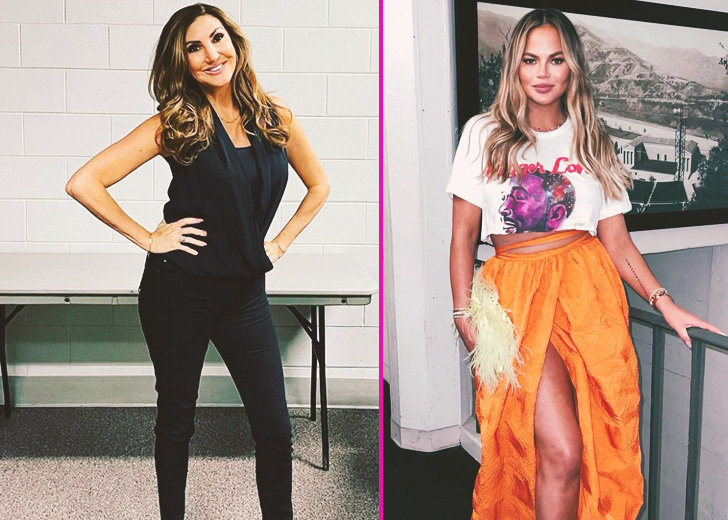 On September 28, 2021, SI model Chrissy Teigen put up a candid snap on her Instagram feed with an equally, if not more, honest caption to go along with it. 
She clapped back at netizens who critiqued her Instagram feed with all sorts of comments and told them she simply didn't care for it. She said they were too conditioned to seeing "perfect photos" all the time. 
Teigen added that she didn't really care about what was being posted on her socials. She even admitted to being chaotic herself, and by extension, her socials reflected the same.
Heather McDonald Had Something To Add
Shortly after the post went online, Heather McDonald slid into the comments section to call out the swimsuit model for her supposed hypocrisy. As the comment is no longer available on the original post, let's catch you up. It read, 
These humble brags of 'this is an unfiltered picture so say whatever mean thing you want so people will actually write nice things since I actually look great' is so 3 years ago, Chrissy. You know what was curated, your Twitter.
Needless to say, the comment did not go unnoticed. The following day, Teigen snapped back at the statement in her stories.
Teigen apparently couldn't sleep at all the night before because she was up sick and sobbing as it was the anniversary of her son's untimely passing. 
"So maybe I'm a little sensitive today but [expletive] off," the caption continued.
Heather McDonald Reacted to Chrissy Teigen's Post
In another story, Teigen claimed that people following people they hate on social media was beyond her understanding. Clearly, these were indicators of her ongoing beef with McDonald. 
Later the same day, McDonald put up a post on her side of the fence that featured Teigen's original post and took a shot at Teigen. Again. 
She claimed she couldn't just take the hypocrisy on Instagram and wrote, "I can't be the only one that can see through this BS. Prayers for Chrissy that she comes up with some new ideas."
Heather McDonald Called Out TMZ Too
At this point, TMZ already had a story out on the feud. So, McDonald called them out too. What's more, she invited fans to Irvine Improv for her comedy show if they wanted to hear her thoughts in person. 
Now, the publication was in the fold, and they did what they do best: churn out and report the juicy scoop for their viewership. Pun intended. TMZ caught up with the comic outside her Juicy Scoop Podcast studio in LA. 
The outlet reported that McDonald didn't think twice about calling Teigen out on Instagram. However, she also confessed that she was unaware it was the anniversary of the tragedy. 
In short, McDonald felt she was simply pointing out the obvious about Teigen's hypocrisy, and the model couldn't stand it. McDonald mentioned that Teigen was changing the narrative to gather sympathy from her viewership.