Does Chrissy Teigen Have Siblings? Inside the Teigen Family
Chrissy Teigen has a sister who inherited her mom's cooking skills.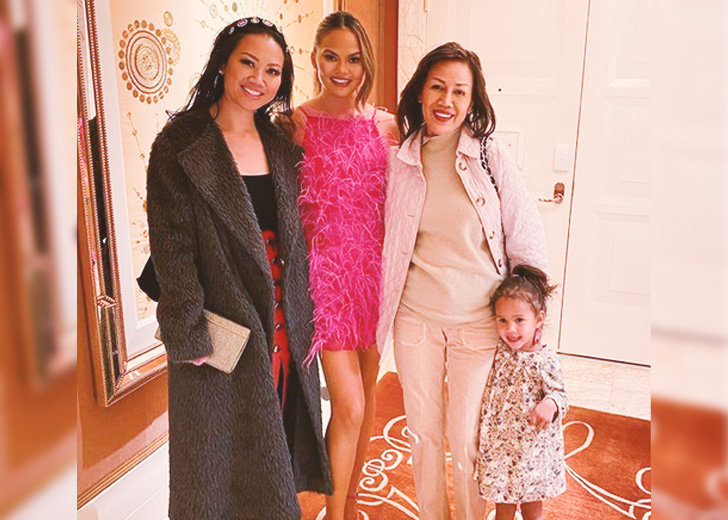 Chrissy Teigen and her parents have been in the spotlight for a long time. Her father, Ron Teigen, has a respectable social following of his own, and her Thai mother, Vilailuck "Pepper" Teigen, is the author of the cookbook The Pepper Thai Cookbook.
Ron gained further fame when the photo of him getting a tattoo of his daughter's face on his arm went viral and aside from her cookbooks, Vilailuck is known for often appearing alongside her famous daughter and son-in-law.
However, the Teigen family is larger than just the aforementioned three. Here's a look at Chrissy's siblings.
Does Chrissy Teigen Have Siblings?
During a video with SELF where Chrissy answered the web's most searched questions about her, the model spoke about her siblings. She answered her dad had three children while her mother had a daughter.
The sister Chrissy was talking about in the video is her sister Tina. Tina also joined Chrissy, Chrissy's husband, John Legend, her mother, and Legend's older brother Ron Stephens to compete on Celebrity Family Feud.
Aside from Tina, not much is known about Chrissy's father's three children.
Vilailuck Lives With Chrissy Teigen
Vilailuck lives with Chrissy, Legend, and their two children. She started living with her daughter and her family after separating from her ex-husband, Ron, on January 1, 2017. 
The two had tied the knot on May 10, 1983 and listed the reason for their split to be "irreconcilable differences." Both Ron and Vilailuck waived their right to spousal support and their marriage officially ended on May 14, 2020.
Before her parents had filed for divorce, Chrisse had revealed that they had been living apart since 2018.
Mom is over so much that she lives with us basically and they've had this kind of relationship for a long time. And my dad comes to the house every other day or so, he was just over yesterday.
Vilailuck Dedicated A Book To Her Late Grandchild Jack
Vilailuck wrote the cookbook because she had trouble replicating her home's cuisines and flavors with the ingredients found in the US. She has also passed on her love for cooking for her daughter, Tina.
But her book, The Pepper Thai Cookbook, carried more meaning than just spreading her recipes. Vilailuck dedicated the book to her late grandson, Jack, who she and the Teigen family lost in September 2020 when Chrissy had a stillbirth.
[Chrissy] put a lot of trust in me and told me that I was the best cook and that I need to write these recipes down. And I'm so glad she did. So now I have a book and something that I can pass down to her, Luna and [grandson Miles Theodore].
Chrissy and Legend have two children together. They welcomed their daughter Luna in April 2016 and a son in May 2018.