Is Hannah Barron Married? A Look into Her Relationship with Boyfriend Hunter Horton
Hannah Barron and Hunter Horton celebrated their second dating anniversary in August 2018.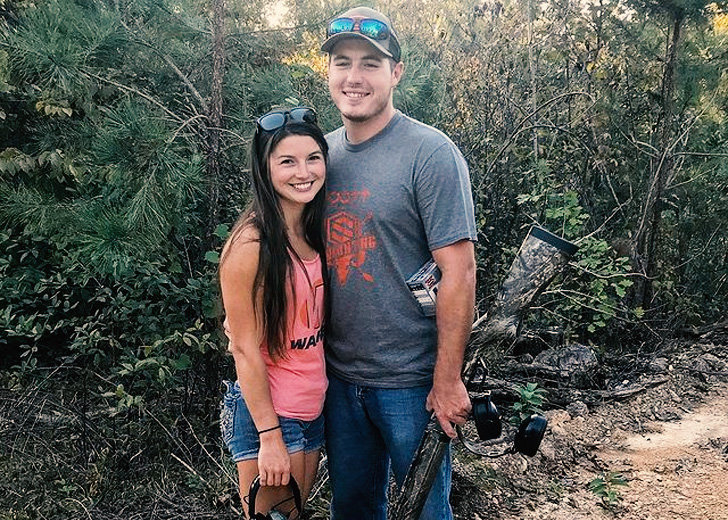 Reality star Hannah Barron and Hunter Horton, her alleged ex-boyfriend, once relished their relationship publicly. The "Catfish Girl" often posted snaps of herself and Horton on social media, showing the couple's closeness.
But if you look at her recent social media posts, her beau is nowhere to be seen. The last time the couple were spotted together on Barron's Instagram was back on December 24, 2018, when they posed for a picture at night after hunting two deers.
Not only that, Barron is lately rumored to be dating fellow hunter Cohen Stone, a Georgia native who works as a producer on Michael Waddell: Bone Collector.
But what actually happened to Barron and Horton? And is Hannah Barron married? Scroll through as we bring a relationship timeline of the allegedly separated couple before analyzing what happened to them.
Valentine's Day (February 2018)
Barron dedicated her 2018's Valentine's Day post to her boyfriend, Horton, by posting a candid snap while catching a catfish. The Instagram celebrity also took the occasion to reveal that the couple would complete one year and 6 months of dating in a few days from the date the post was dropped.
In her lengthy caption, she thanked him for varied reasons, including driving 2 hours every other weekend to spend time with her. She ended her note by claiming that no one else had a relationship as crazy as theirs, and she wouldn't trade the experiences they had for anything.
Second Dating Anniversary (August 2018)
On August 19, 2018, Barron and Horton completed two years of dating, and yet another series of catfish hunting pictures were posted on that occasion.
Barron wished "Happy 2 years" to Horton, describing him as the man who had been able to put up with her for that long. She also said that despite the 2-hour long distance between them, they completed those two years without any arguments.
Horton's 22nd Birthday (October 2018)
The same year in October, Barron also wished her beloved partner a happy birthday by posting a snap of herself and him on Instagram.
"Happy Birthday Hunter Ryan Horton," she wrote in the caption. She revealed through her caption that it was Horton's third birthday she had gotten to spend with him.
In the snap, she wore a pink vest, a pair of denim shorts, and black leather boots, while Horton rocked a grey shirt, blue jeans, and leather shoes. In addition, he also carried noise-canceling headphones and a long rifle gun.
The Last Post Together (December 2018)
As mentioned earlier, Barron last posted a picture with Horton in December 2018, and since then, there have been no details about their relationship. Even Horton's Instagram, which has over 6600 followers, has been inactive since June 2019.
What Happened to Them?
Since both of them never mentioned what actually happened to them, nothing can be reported easily.
But according to some online sources, they got engaged in 2018 and planned to get married. However, things didn't turn out as they thought, leading them to call off their engagement abruptly.
There are also theories that the couple might still be together but keeping their relationship under wraps. That being said, the details are yet to be confirmed, and it remains unknown what happened between them.