Gleb Savchenko Confirms Relationship with Girlfriend Elena Bella While Posing for Snaps
Gleb Savchenko has a new woman in his life!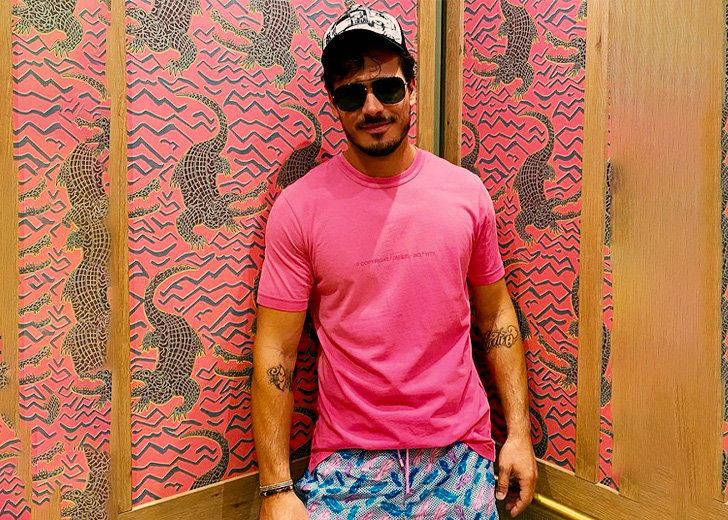 Renowned dancer Gleb Savchenko is back in the dating scene.
Last weekend, the Dancing with the Stars pro, 37, traveled to Florida with his beautiful new love interest Elena Belle, confirming their relationship.
"Gleb and Elena went on their first vacation together to Miami Beach and stayed at Carillon Wellness Resort," an insider told Us Weekly. "This was the first time they got to spend a lot of time together after meeting on 4th of July."
The insider further reported that Savchenko and his girlfriend, whose actual name is Natacha Peyre, met through a mutual friend earlier this summer.
"Gleb and Elena chose the luxury five-star hotel, Carillon Miami Wellness Resort, which was the perfect place for them to indulge in spa treatments, eat delicious food and relax," the source added.
The couple reportedly relished many of the amenities the hotel had to offer during their trip, including halotherapy, whole-body cryo, the prism light pod, and the salt bath float. On August 22, both of them even took to their respective Instagram handles to share a video of them enjoying those amenities.
"Relax Renew Refresh @carillonhotel spa&wellness center," Savchenko captioned his post.
In the exclusive photos obtained by Us Weekly, the lovebirds were spotted posing for some glamorous pictures together. For instance, in one snap, the professional dancer and the model sat by the beach to sip coconut water, while in another frame, they took bicycles out for a brief ride.
Meanwhile, Savchenko went shirtless with Hawaiian shorts, whereas the Swedish model and blogger rocked a bikini with a pair of round sunglasses and an airy white shirt.
The two rounded off their Miami trip on August 24, as they took a flight back to LA at midnight. Belle shared a couple of snaps on her Instagram stories — one featured the couple, where she wrote, "Bye Miami...til next time," and another snap saw Savchenko in a green hoodie inside the flight. 
Moving on From Past Relationships
While Savchenko and Belle are enjoying their newly established relationship, it is also important to acknowledge that both of them are coming from failed marriages.
Savchenko, a Russian dancer and choreographer, was previously married to Elena Samodanova for 14 years between 2006 and 2020.
"After 14 years of marriage with my deepest sadness our road is coming to the end," Samodanova confirmed the divorce through Instagram. "I don't hate you, I'm just disappointed you turned into everything you said you'd never be."
The ex-couple had two daughters Olivia, 10, and Zlata, 4, whom they are co-parenting at present.
"We still intend to co-parent our wonderful children together who we love so dearly, and we will strive to continue to be the best parents that we can to them. We ask that you respect our family's need for privacy and healing during this time," Savchenko wrote on Instagram.
On the other hand, Belle was married to Michael Theanne, American DJ Steve Aoki's manager, between 2016 and 2020.
She became a widow when Theanne passed away outside his Los Angeles home in February 2020, after hiking with his dogs. The pair shared a daughter, Luna, from their marriage of four years.
Between his divorce and his present relationship, the DWTS member was also rumored to be dating singer, Erika Jayne. But the details were never confirmed by both of them.