CBS' 'Ghosts' Remake: What Goes into Making an American Version of a British Show?
American version of 'Ghosts' will premiere on October 7 later this year.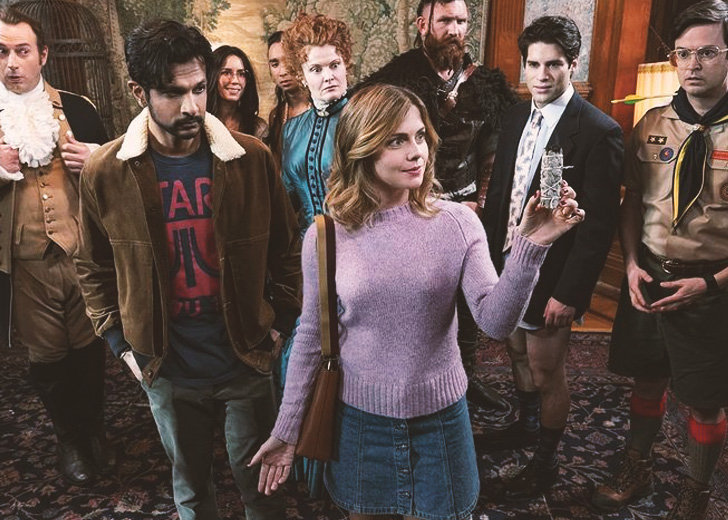 If you are a fan of the British sitcom Ghosts from the USA, there is good news for you. An American adaptation of the series is slated to premiere on October 7 later this year, after a full series was announced on March 31, 2021.
Like its British version, the US sitcom will revolve around a young married couple, Samantha and Jay, who unexpectedly obtain a mansion from a distant relative. They plan to convert it into a hotel.
In a surprising twist, Samantha develops the ability to see undead spirits that haunt her home, making life complicated.
Actress Rose McIver and actor Utkarsh Ambudkar play the main lead in the sitcom, whereas the extended cast includes Brandon Scott, Richie Moriarty, Asher Grodman, Rebecca Wisocky, Sheila Carrasco, Danielle Pinnock, Roman Zaragoza, and Devan Chandler Long.
But is the filming experience of making an American version of a British show different from usual shows? And what goes into making such remakes?
Speaking to Radio Times, one of the executive producers, Mathew Baynton, shared that a big part of "Americanising" the sitcom for the team was to decide on an ensemble.
That was because their British ensemble was a bunch of immediately recognizable archetypes that were British or European, and an extent of history that is particular to the place.
He further added they had to follow a completely new set of restrictions for the American adaptation of the series. He continued saying,
And you've got to think about where you're going to set it, how far back the history is going to go in that setting, and what those archetypes are going to be that Americans are going to recognize immediately.
On the other hand, Laurence Rickard, the star and executive producer of the British version of Ghosts, praised the work of American producers Joe Port and Joe Wiseman for keeping the dynamics of the show consistent, despite having to make technical changes and adding new characters into the group.
"A lot of the character dynamics are the same, but they've changed where those characters come from geographically and their point in history," Rickard added. "I think they've been really, really clever about it."
English actor Ben Willbond, who portrays the role of The Captain in the original series, was also fascinated to see how the show transitioned into an American, CBS-style show.
And while some loved the idea of the American adaption, some felt weirded out to see similar characters being played by different people. Actor Jim Howick, who plays Pat Butcher in the British version, described the idea as "the closest I've come to a sort of sci-fi parallel universe".
'Ghosts': The American Adaptation
Despite the mixed response for the American version, Ghosts is all set to release later this year, with its official trailer being released earlier in May.
The original series was created by Mathew Baynton, Simon Farnaby, Martha Howe-Douglas, Jim Howick, Laurence Rickard, and Ben Willbond for CBS. The same producers return for the US version as well.
In addition, the series is also being produced by BBC Studios, Lionsgate Television, and CBS Studios.