Rose McIver Was Still In A Relationship When She Met Boyfriend George Byrne
New Zealander actress Rose McIver called off her relationship with boyfriend Benjamin Hoeksema after twelve years together. She is now with Australian artist, George Bryne, after moving to LA in 2011, which suggests that she was still in a relationship with Benjamin when the two first met.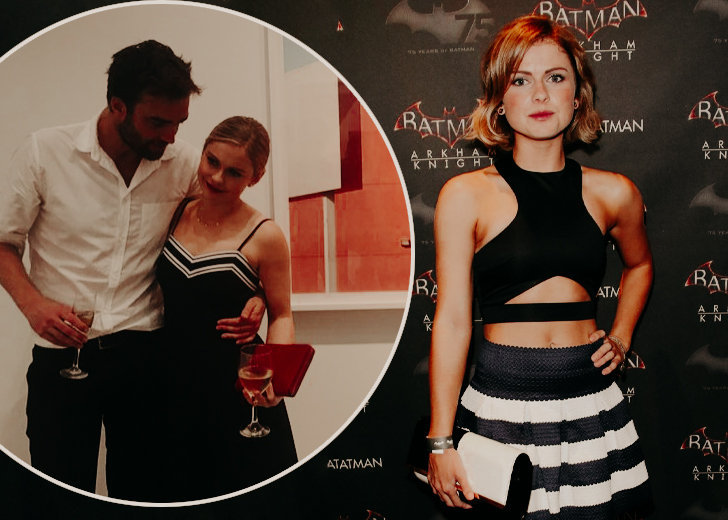 In 2011, New Zealander Rose Mclver relocated to LA -- a decision that brought about significant turning points in her life, both personally and professionally. Back home, the struggling actress used to make ends meet by delivering Fair Trade bananas on the back of a scooter and a few acting gigs. But coming to the bright lights of Hollywood brought about plenty of opportunities from starring in such hits like iZombie and A Christmas Prince.
Personally, the changes were even more pronounced as the New Zealander had to cope up with a breakup from a long-time partner while also meeting and starting afresh with her current love interest, George Byrne. 
Read on to find what changes came about in the 32-year-old's relationships, from a supposed split-up to a peaceful life in the east side of LA with current partner.  
Rose McIver Was Still In A Relationship When She Met Boyfriend George Byrne
Before George, the Auckland-born artiste dated architect Benjamin Hoeksema for 12 years.
According to some sources, Rose and former lover Benjamin first met in 2005, although their relationship's exact date isn't disclosed. While there aren't many pictures of the former partners together, the architect was spotted accompanying the starlet during The Lovely Bones' movie premiere. 
Meanwhile, additional sources claim that the two migrated to LA together and started a live-in relationship in the year 2011. However, things certainly didn't work out between them. If the iZombie star's Instagram is any indication, she is not in a relationship with Benjamin anymore but with visual story-teller George Bryne. 
While the renowned actress kept the relationship with former lover under the wraps, The Lovely Bones actress hasn't shied away from a public display of affection towards George. 
As per an article by Now To Love, the New Zealander met current Australian boyfriend, Bryne, after moving to LA in 2011, which suggests that Rose was still in a relationship with Benjamin at the time. 
It is unclear as to why and when the Christman Prince actress ended her 12-year-long relation with Benjamin. Nonetheless, it can be assumed that after breaking up with her former lover, Rose later reconnected with George and started dating in 2017. 
Rose McIver Shares Good Times With Boyfriend In LA
Rose and George today share a beautiful house on the East Side of LA, slightly away from the city's hustle and bustle. 
The two have been enjoying each other's company, as is apparent in multiple Instagram posts. Even during the limiting COVID-19 lockdowns, the beautiful couple made the most out of their time. In one post from July 2020, the iZombie alum wished George a happy birthday while also commending his creativity and patience. Although they couldn't go out for a fancy dinner to commemorate the occasion, the creative partner did make an outdoor fireplace out of cardboard boxes. 
Happy birthday @george_byrne. 2020 has only made it even more apparent how wonderful (read: patient) you are. I especially love how you designed our outdoor fireplace out of la croix boxes. Innovation is key
The starlet is also very supportive of the boyfriend's creative professional work, accompanying him while also sharing his exhibitions via Instagram. 
Rose Mclver Makes It A Point To Visit Native Home And Boyfriend's Family
Although glad of the decision to move away from the native country of New Zealand for career prospects, the Lovely Bones actress admitted missing home in an interview with Now To Love.
I'm on the other side of the world and all my school friends are watching each other have babies, get married, and get on with life. But at the same time, you're like, ...how dare I complain about an opportunity that I could only have dreamed of?
Nonetheless, The Christmas Prince star loves visiting friends and family back home whenever the opportunity provides, especially during festivities. While talking to the Cosmopolitan, Rose shared her 2019 Christmas plan, which involved flying back to New Zealand and spending time with her family playing jigsaw puzzles. In the same interview, the famous celeb also admitted to spending time with George's family, including a lot of swimming.
If that is any indication, then it should tell just how serious both of them are regarding their relationship.