'Stranger Things' Star Gaten Matarazzo Underwent Multiple Teeth Surgeries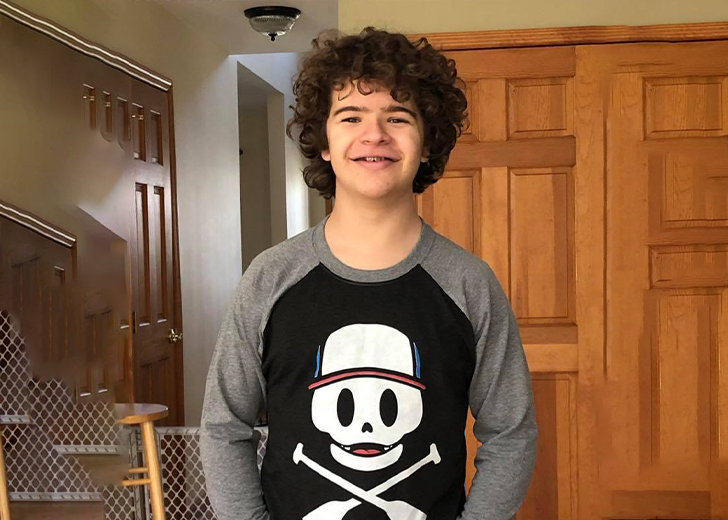 Gaten Matarazzo has a rare teeth disease after being born with cleidocranial dysplasia, commonly known as CCD.
His genetic condition, which primarily interferes with dental and bone development, is noticed in one out of a million people worldwide, according to National Organization for Rare Disorders.
Anyone born with the disease generally has short height and has distinctive facial features such as a prominent forehead, abnormal or baby teeth, and the absence of collarbones.
Gaten Matarazzo's Teeth Now
On February 1, 2020, Matarazzo revealed he'd had successful surgery.
The actor took to his official Instagram page and posted a picture of himself from the hospital bed.
His post was accompanied by a long caption where he gave out details regarding his operation.

Gaten Matarazzo celebrating his mother's birthday at a cafe. (Photo Credit: Instagram)
Matarazzo called his surgery "a big one" in his writing, hoping it to be his last major treatment.
The television actor shared that multiple extraction processes were put in the palace in separating his supernumerary denture from his gum.
He said a total of fourteen teeth were taken out by the team of "amazing" medical professionals in under four hours and shared how he was recovering well in the last few days.
However, this wasn't the first time his gums went under the knife. A few days before his treatment, the actor shared a picture on his social media, saying he was set for his fourth dental surgery.
The surgery, which costs around $40,000 for the actor, is not often covered by insurance, making it difficult to anyone with CCD to seek a long-term medical remedy.
"There's a one in a million chance that you have of getting it. It is most likely that you get it from a parent, but it just happened to me," Matarazzo told People in 2016.
In 2018, actor Matarazzo shared how he was constantly rejected from acting roles because of his medical conditions.
He said he would go for auditions three times a week and return with a "no" every time.
Gaten Matarazzo Inspires Others with Similar Teeth Condition
The Stranger Things actor shares a commonality with his show's character Dustin Henderson. Henderson also has CCD after the show creators decided to incorporate Matarazzo's real-life illness into his reel life.
The actor's openness about his condition has led many others suffering from the same disorder to report their problem.
According to Kelly Wosnik, a nurse in Utah who founded CCD Smiles along with Matarazzo in 2017 maintained, the actor's influence has made it "cool to have CCD."
"Stranger Things gave him a huge platform that has helped so much with awareness," the nurse told Healthline in 2020.
She further stated that Matarazzo's status as a Hollywood star has helped people come out of the "woodwork" and report they have CCD becoming a part of the CCD family.
Wosnik, born with CCD, started her foundation to bring people like herself under one roof after meeting someone with the same condition through Facebook when she was thirty-three.
Likewise, Erica Mossholder, executive director of the Children's Craniofacial Association, said Matarazzo's awareness through his show has remained very beneficial to the community.