Are Gaten Matarazzo & Heather Matarazzo Related? Details On The Actor' Real Mother
"Guys, my Mom's name is Heather but she's not Heather Matarazzo," tweeted Gaten Matarazzo. Confused? Don't be!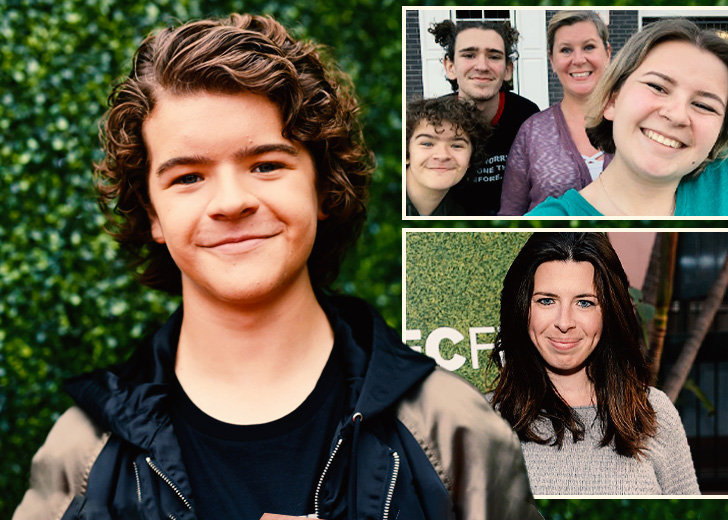 When Stranger Things first premiered on Netflix in June 2016, no one could have anticipated that the supernatural TV series would become a global phenomenon. The sci-fi thriller gained immense popularity, with 8.2 million people watching it in its first 16 days. 
The vintage sci-fi series not only surpassed Marvel properties Daredevil and Jessica Jones but did better than critical darlings House of Cards and Narcos. 
The show exceeded expectations and created major stars, including Gaten Matarazzo, who plays the lovable Dustin Henderson — a goofball who serves as comic relief amongst the quirky group of friends made up of Eleven, Lucas Sinclair, Mike Wheeler, and Will Byers. 
However, the star has caused quite a confusion because of his last name, Matarazzo. 
Does Gaten Matarazzo have a celebrity family?
There are plenty of influential families in Hollywood, from the Kardashians to the Jolie-Pitts; however, several stars share the same surnames, but they are not related. 
Gaten, too shares the same surname with another famous actress, Heather Matarazzo, who played Lilly alongside Anne Hathaway in Princess Diaries. 
Fans of the Stranger Things show were itching to know if they were indeed related. 
However, the 35-year-old actress, who appeared on several episodes of Grey's Anatomy back in 2015, quickly took to Twitter and answered the burning question. In the tweet that has since been deleted, she wrote,
We are not related. He is NOT my son, though he is adorable and such a good actor
Although the actress clearly confirmed on Twitter that she is not related to Stranger Things star, fans were still confused. That's because not only do the actors share the same last name, but Gaten's mother's first name is also Heather.
In 2018, Gaten had to go on Twitter and correct International Business Times that his mother is actually Heather Matarazzo but not the Princess Diaries' Heather Matarazzo. The publication later apologized and corrected their article. 
Heather Matarazzo
Unlike her son or the other Heather, Heather Matarazzo is not an actor and instead chooses to devote her time to motherhood. On Twitter, she describes herself as "a broadway stage mom, a soccer/basketball mom, and the mom of a just-about-to-drive teenager."
In an interview with NJ.com in 2012, the actor's mother stated she supported her son's decision to go into acting entirely and even drove him to NYC from their hometown in New Jersey when he landed a role in a Broadway show. 
Gaten clearly loves his mother for all that she has done for him. He frequently expresses his love for his mother with adorable posts on Instagram. 
He also took his mother as a date to the Golden Globes Awards and captioned the sweet mother-and-son pic "Golden Globes with my mom!" 
We hope this cleared up any confusion you had about the two Heather Matarazzos. Just remember, one is an actor and the other one is the mother of an actor!