Fortune Feimster and Wife Jacquelyn Live-Streamed Their Wedding over Zoom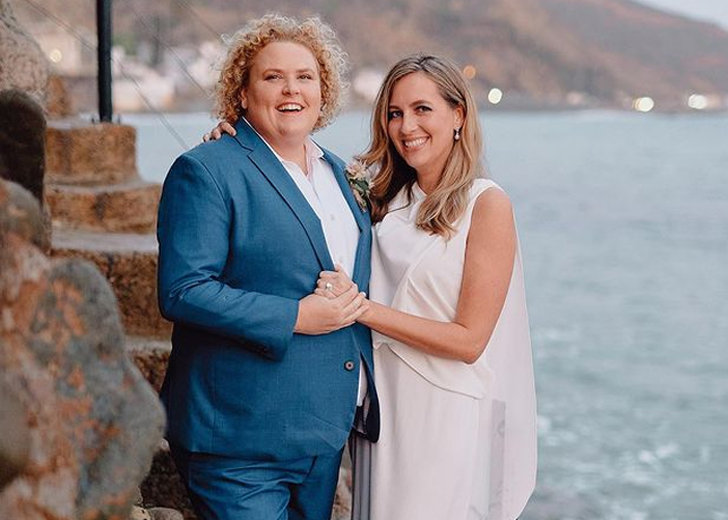 Fortune Feimster and her wife Jacquelyn Smith tied the knot amid the pandemic on October 23, 2020, and live-streamed their wedding over Zoom.
The couple rented a house in Malibu, California, and performed the ceremony on the backyard patio, looking out to the ocean.
They put a computer in the middle of the patio and shared the video with their family member and friends who couldn't make it to the event because of the pandemic. 
Only a couple of good friends had attended the big day. The pair purposefully invited only those who had been taking quarantine and the pandemic seriously. 
They informed their guests only a week prior and asked them if they would come to the wedding after taking COVID tests and precautions. 
Their friends supported their plan, partaking in the celebration. Even their Pomeranian rescue, Biggie, played a vital role, being the ring bearer. 
Feimster donned a blue suit for the big day while her partner wore a plain white dress. 
Fortune Feimster and Wife's Last-Minute Wedding 
Feimster and her partner had already thought of getting married in the summer of 2020. They also knew it would be more of a celebration than a traditional ceremony for them. 
They had already started looking for venues in March 2020. However, COVID hit, and the pair felt as if they shouldn't get married amid the perils of the pandemic. 
They halted their plans. But the U.S. Supreme Court debates on same-sex marriage and the turbulent times made them realize they might not get married the following year either. 
Upon that realization, the lovebirds made their minds to marry and organized a quick and small wedding within three weeks. 

Fortune Feimster and her wife Jacquelyn Smith on their wedding day. (Photo: Jacquelyn Smith's Instagram)
A day after exchanging vows, the comedian told People she was excited to have Smith as her wife.
She mentioned their five-and-a-half-year relationship, acknowledging the marriage felt good and right. 
Fortune Feimster's Relationship with Jacquelyn Smith
Feimster met her future spouse at the Pride parade in Chicago in June 2015, a day after the court legalized same-sex marriage. 
They hit it off instantly and got engaged on January 5, 2018, in Big Sur, California, two and a half years after dating.
The 41-year-old took to Instagram to announce the joyous news. She posted a gallery of pictures with her girlfriend and revealed the news in the caption that read, "She's officially my feyoncé."
Smith also posted the pictures on her Instagram. In the caption, she disclosed the humorist had asked her to join her on a magical adventure to Big Sur, and she had said "yes."
The married couple's relationship has been going strong ever since they have been together. They celebrated their first marriage anniversary through a grand party in 2021. 
Jacquelyn even professed her love towards her wife through a heartwarming lengthy write-up and a couple of their wedding pictures.
"I still can't believe we're married, and somehow it has already been one year," she began her message. 
Then, she stated she was incredibly grateful for her partner and the love they could share daily.
"I love doing everything and nothing with you," she penned, adding she couldn't wait to continue the lifetime of adventures with her partner.
While Feimster is a professional comedian and a television personality, her spouse is a teacher at the Citizens of the World school in Los Angeles.