Fortune Feimster's Weight Loss Was Inspired by Her Engagement Photos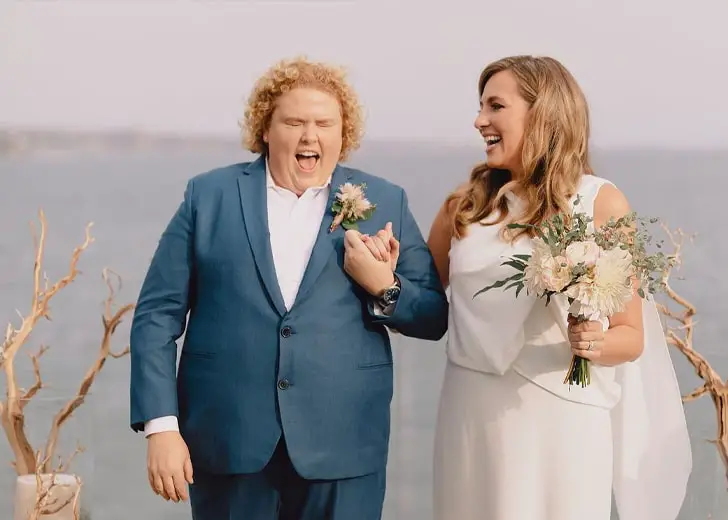 Fortune Feimster has been pretty vocal about her weight loss and gain journey throughout her career, poking fun through tweets and comedy skits. 
She was admittedly born a big kid, weighing ten and a half pounds, and had a larger frame starting from her childhood.
While she had always had a naturally curvy body, some of the credit had to do with her food choices and lifestyle.
And she only packed on more pounds after she started dating her now-wife Jacquelyn Smith. The pair stopped caring about their appearances and significantly gained love weight. 
Only after the duo got engaged during a trip to Big Sur, California, in January 2018, they realized they were gaining weight.
Their engagement pictures introduced them to their weight gain, and the duo recognized it was time for some healthy changes in life.
Fortune Feimster's Impressive Weight Loss 
Feimster opened up about her weight loss in her Netflix special Fortune Feimster: Sweet & Salty, released on January 21, 2020.
Stating she had recently lost 40 pounds, the famed comedian narrated how hard it was to be comfortable with her body.
In her own words, she had always struggled to fit in because of the typical body image. 
She also mentioned that struggle with body image was every woman's foe. "Even the most beautiful, the thinnest people I know are like, 'Ugh, I hate my body,'" she recounted.
Moving on with the topic, Feimster uttered that being comfortable in her own skin was vital to her journey to make healthy choices and appreciate herself. 

Fortune Feimster talks about weight loss in her Netflix special 'Fortune Feimster: Sweet & Salty.' (Photo: Fortune Feimster's YouTube)
And Feimster realized the need to be healthy when she and her wife started gaining weight. In the light of the cognizance, she got an appointment with a doctor. 
She disclosed that her doctor smacked her bare belly, and the therapy helped her perceive, "if people are smacking your bare belly, there's a problem." 
For the first time in her life, The Mindy Project actress attempted to be healthy, with a controlled diet and exercise.
Subsequently, she underwent an impressive weight loss, dropping 40 whopping pounds. 
"It turns out that when you diet and exercise you lose weight — who knew?" Feimster joked about the achievement. 
Fortune Feimster's Secret behind Weight Loss
Before Feimster got candid about what motivated her to lose weight, she had already shared how she reached the milestone during an interview on Bill Leff and Wendy Snyder Show in June 2018. 
During the time of the conversation, she had already recently lost 30 pounds.
So when the host lauded her new looks, the humorist added she was trying to stop eating desserts three times a day. 
Snyder quickly asked if that was all it took for her to lose weight, and Feimster admitted, "I was eating a lot." 
Feimster and her partner eliminated processed foods, milk, sugar, alcohol, and added flavors for 30 days to deal with the extra pounds. After that, they only ate meat and vegetables. 
While the transition was admittedly hard during the first days, they got the hang of it towards the end.
Feimster shared they reintroduced the foods after one month and realized she could live without them as well. She even replaced the cream in her coffee with almond milk.
In the same interview, the 41-year-old shared that having a partner who motivated her helped a lot.
She even noted that she couldn't have controlled her food consumption without her fiancee.