'Black Widow' Star Florence Pugh Expressed Gratitude for Her Stunt Double
Florence Pugh's stunt double Michaela McAllister helped her train for 'Black Widow.'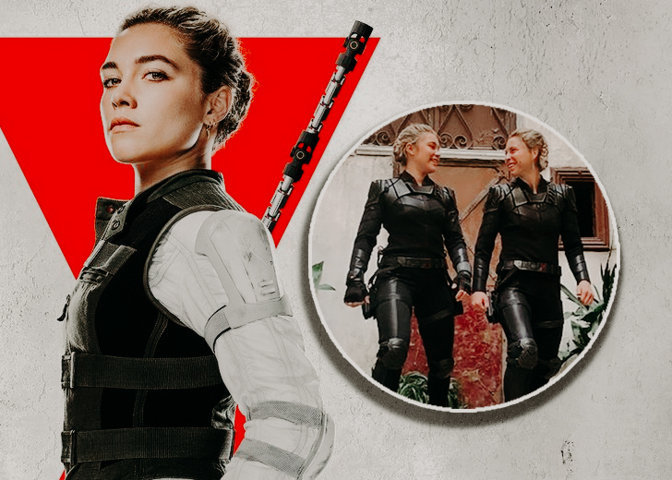 Florence Pugh portrayed Yelena Belova in Marvel's latest movie Black Widow. With her outstanding performance, she garnered high acclaim as she showed she has the mettle to take over the Black Widow mantle. 
In the film, Belova, the long-lost sister of Scarlett Johansson's Natasha Romanoff, navigates through the grief of abandonment to differentiate between wrong and right and understand Romanoff's legacy.
While on the route, the tragicomic assassin dazzles viewers with her breathtaking stunts, setting ablaze the notorious Red Room, and fighting vices alongside her sister.
Without a doubt, Pugh made remarkable efforts to breathe life into her vivacious character. And, she is wholeheartedly grateful to have a stunt double who helped her produce seamless fighting scenes. 
Florence Pugh Felt Lucky to Work with Michaela McAllister 
Pugh took to Instagram to thank her stunt double Michaela McAllister for her support on July 10, 2021.
She posted their rehearsal video from the Black Widow sets and penned a lengthy, heartwarming message in the caption.
Introducing McAllister as her 'main lady,' the Oxford native recalled how they first met at the beginning of the preparation session. 
Since day one, the stuntwoman accompanied Pugh as she learned kickboxing and stunts choreography. They would practice together while McAllister helped her tackle any difficulty or confusion.
The Little Women actress shared she had never imagined she could have such a wonderful relationship with McAllister. She disclosed the stunt person mentored her and helped her polish her character. 
For Pugh, learning to fight and film with McAllister was one of the coolest parts of the project. 
Having this awesome and incredibly talented woman in lock step with me, helping to achieve what I and everyone else in that room had in mind for Yelena.
She praised her stunt director as a champ and cited how lucky she was to work with her.
The 25-year-old even expressed that she hoped to work with McAllister in the coming future. "Thank bunny. You're a legend, " she wrote at the end. 
McAllister Feels the Same
A day after Pugh dedicated the thoughtful message for her mentor, McAllister also poured her respect and adoration for the British actress through Instagram. 
Posting their picture from the set, she firstly thanked Pugh for her sweet, kind words, mentioning she was incredibly special to her.
Then McAllister shared the story from the sets and revealed how Pugh learned all the stunts — including kickboxing and intricate choreography — with no complaint.
In her on words, she came with fire and triumphed over every challenge. 
I will not ever forget the giggles she gets when she is excited about something… Which ended up being almost every single action we had the opportunity to plan for her.
The action performer stated filming Black Widow was an extraordinary experience. She ended her message, writing, "Florence Pugh you are my muse."