'Family Game Fight!' — The Show's Connections with Ellen DeGeneres and Kristen Bell
"In our estimation, that Taste Buds thing was by far the funniest thing that we've ever been a part of," said Dax Shepard of his appearance on 'The Ellen DeGeneres Show.'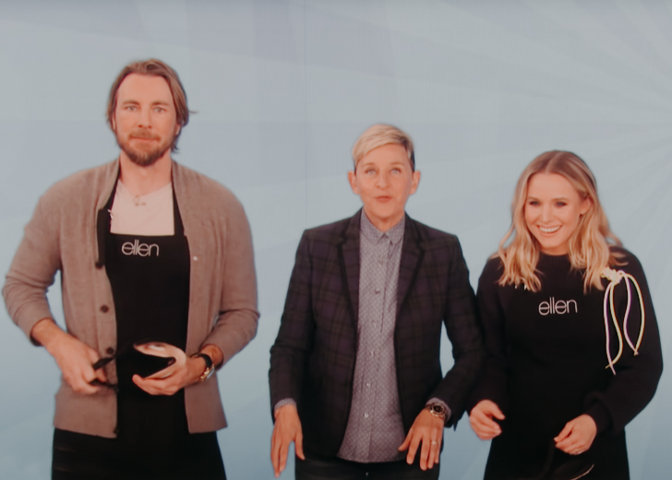 Kristen Bell and Dax Shepard have shared a screen many times in the past, but Family Game Fight! marks the first time the couple has ever hosted a show. 
The NBC series will feature ten episodes where Bell and Shepard will be both hosts and competitors. Bell and Shepard will each be "adopted" into individual families of four and compete in various games as they help their respective families win a big cash prize. 
Unknown to many, the idea for the show was actually conceived from a game that the couple played on The Ellen DeGeneres Show.
Bell and Shepard Played Taste Buds
Back in March 2019, Bell and Shepard made an appearance on The Ellen DeGeneres Show, where they played a hilarious game called Taste Buds. 
The rules of the game dictated that both Bell and Shepard be blindfolded as they taste a series of random food items without using their hands.
Once the person eating the food item found out what it was, they had to give out hints to the other person to guess what they were eating. 
The obvious catch was that they could not name what they were eating. For every correct answer, one of the show's sponsors, Shutterfly, would give out a thousand dollars to the Prostate Cancer Foundation.
After about five minutes of what can only be described as pure comedic delight, the couple managed to secure a check for $10,000.
On a later date, Shepard confessed to DeGeneres that the game was by far the funniest thing that either of them had ever been a part of. 
The Couple's First Date
On a completely different note, in a conversation with Variety, the couple relived one of their first dates. Bell had invited Shepard over for a game night with a bunch of her friends. Bell added, 
He said he fell in love with me there because I was a very tiny person bossing everyone around. I fell in love with him too because he's a very large person who could boss everyone around, but chooses not to.
And just like that, the couple found love. As for Shepard, he said that his wife was his favorite human to work with, and she was incredibly fun to look at. 
Going by those two anecdotes alone, the couple enjoyed playing games together and made the experience enjoyable for those watching on their first date, making the idea behind Family Game Fight! a no-brainer. 
Want to Sign Up?
With DeGeneres on board, the three of them decided to team up and produce what they describe as the biggest, craziest, funniest, and wildest family game show ever.
During a later appearance on The Ellen DeGeneres Show, the talk show host announced families could sign up for the game show via the Ellentube website.
The joyful duo also established that their definition of a family included anybody and everybody that one loves and respects in their inner circle.
The only restriction was that no one person could claim to be a family in themselves.