Evan Fournier Calls His Wife Laura and Son Elias His Everything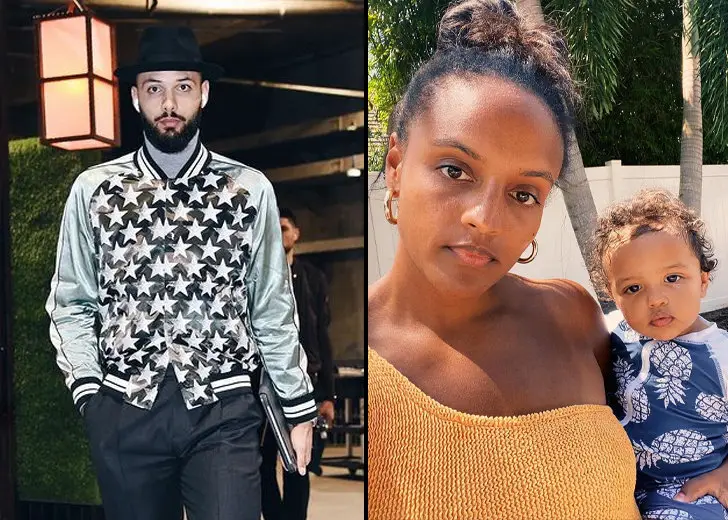 There is no one like family — and Evan Fournier, a French professional basketball player, does not differ with that thought.
Even though it is unclear when he tied the knot, the NBA star is happily married to his wife, Laura. Not just that, he and his wife are also blessed with their first child, son Elias.
Evan Fournier's Wife and Son Are His Everything
A quick glance into Fournier's social media handle, especially Instagram, is enough to show his love for his beloved partner and their adorable son.
Through his posts, he usually expresses his love for him. For instance, on February 14, 2021, he took to Instagram to post a picture of his two favorite people — wife and son — while describing them as his "everything."

A picture of Evan Fournier's wife Laura and son Elias. (Photo: Instagram)
"My everything. Take care of whats yours fellas," he wrote in the caption, urging others to take care of their beloved ones, too.
Similarly, he posted a series of pictures of him and his son Elias on October 4, 2020, as the two ran around a bridge. The basketball player also stated that he could not get his eyes off the little one.
That said, Fournier's Instagram is equally filled with pictures of him donning the jersey of his NBA team New York Knicks and training for his games.
Evan Fournier Had' Best Time' with Family during Lockdown
When the COVID-19 hit the world, everyone, including Fournier and his family, was forced to live inside their houses. But that wasn't much of a problem for the shooting guard.
Speaking with reporters during a Zoom conference in July 2020, Fournier shared he had a great time during the lockdown, as he got to spend time with his family.
"It was the best time of my life to be honest," Fournier said. "Being able to spend time with my son, see him grow everyday, not leaving home. You know, I love being at home - and having time to just work on the things that I want to work on."
He shared that he didn't normally have much time to spend with Laura and Elias during regular seasons. But since he had to be at home, he was able to use this period to spend quality time with his loved ones.
While saying that, he was also quick to admit that he understood what was happening around the world and hoped the situation would get better soon.
Living Way from Family in a Bubble
During the same conversation, Fournier addressed how tough it was for players like him — as well as coaches and team staff — to be away from the family while they were on the road and living in a bio-secure bubble.
He said most people are even unsure regarding the days they have to be away from their loved ones. Hence, he felt the situation was really hard on players and support staff.
Thankfully for him, his house, located in Orlando, is just a few minutes away from his playing ground — and that helped him to stay close to his wife and their little kid.