Are Ethan Cutkosky and Lil Xan Related? Here's the Truth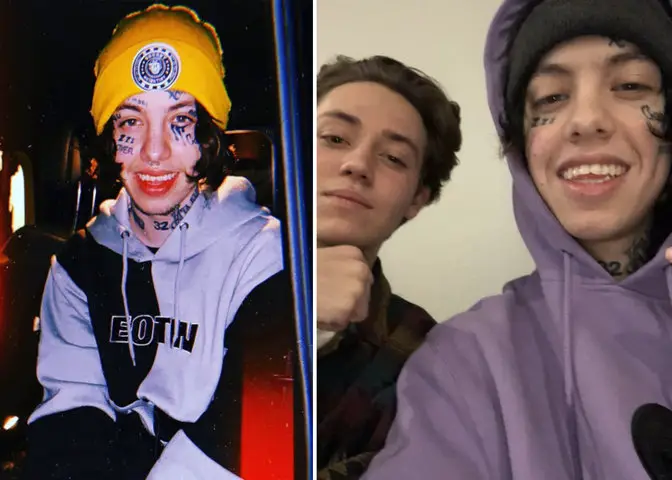 Are Ethan Cutkosky and Lil Xan related? Ever since fans noticed the uncanny resemblance between the two, they have been wondering "are Ethan Cutkosky and Lil Xan brothers?"
For the unversed, Cutkosky got his start in acting as a kid when he appeared for a Walgreens advertisement.
From there, he transitioned to acting. After playing various roles in films like 2007's Fred Claus and 2009's The Unborn, Cutkosky got his breakout role in the early 2010s, on the Showtime TV drama Shameless. 
The actor was just 11 years old when he played Carl Gallagher, who was part of the infamous dysfunctional Gallagher family. 
Meanwhile, Lil Xan, real name Nicholas Leanos, blew up on YouTube and SoundCloud thanks to his muddled, gloomy audio aesthetic.
His records such as 'Betrayed' and 'Slingshot' have millions of views and plays on YouTube and SoundCloud. 
His stage moniker was given to him by his friend for his addiction to the prescription drug Xanax. But since turning to music, he has kicked his Xanax addiction. 
And the two artists have often made headlines because of their eerily similar facial features. 
Are Lil Xan and Ethan Cutkosky Friends?
Apart from looking alike, the duo also has a lot of similarities. 
Both artists spent most of their careers in California, and they have played personas heavily inspired by drugs.
Cutkosky's Carl was into drug dealing, while the rapper had a past with substance abuse which he often raps about. 
And because of all the similarities, the duo has left many fans confused. Fans even thought it was the 'Betrayed' rapper who starred in the Showtime drama. 
But the rapper cleared up the rumors when he spoke up about his relationship with his doppelganger. The actor and the rapper are neither related nor are they brothers. They are friends. 
In fact, the duo played along with their fans when the rapper invited Cutkosky to join him on stage during his show in LA.
The music artist surprised his fans by bringing the Shameless actor out on stage for a performance of 'The Man' from his Total Xanarchy album.
The rapper told TMZ he was friends with Cutkosky in real life and had plans to work with the actor in the near future.
Ethan Cutkosky, Lil Xan And Billie Eilish
But that's not all. After a Reddit user published photos of Cutkosky, Lil Xan, and singer Billie Eilish, noting that they looked very similar, the post went viral. Users took to Twitter to talk about the eerie similarities between the three celebrities. 
User @Georgia_pat10 wrote on Twitter that Ethan Cutkosky, Lil Xan, and Eilish were related and that he would not argue about it.
Another user, @StaceyMax, noted that the three were made genetically in the lab using the same DNA.
User @lil_burd_ was convinced that the three of them were fathered by the same person, while @lizzeyurb wrote that Cutkosky was the 'Slingshot' rapper if he had a college degree, and that she had a crush on both of them.
There are many other similar tweets like this on Twitter. So far, the artists have not responded to their fans' tweets.