Este Haim Clears Taylor Swift and John Mayer's 'Dear John TV' Collab Rumors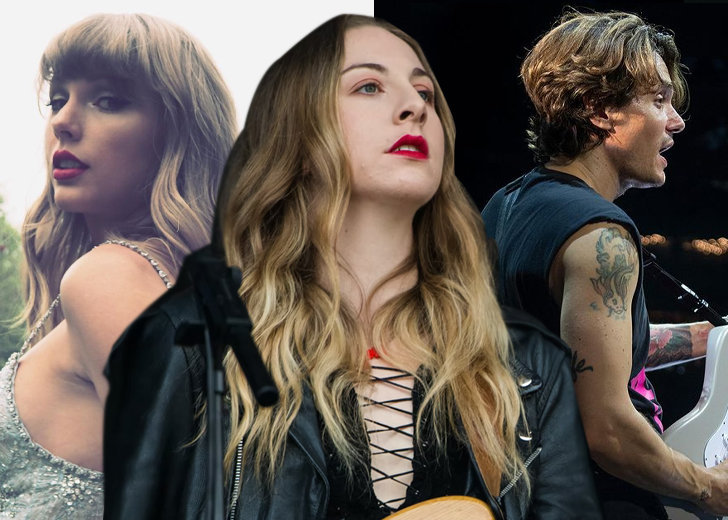 Looks like Taylor Swift is gearing up for the release of Speak Now (Taylor's Version), and there are many speculations, one of which involves Este Haim about the track 'Dear John (Taylor's Version).' 
There are rumors that Swift's ex, John Mayer, the inspiration behind 'Dear John,' will collab with the singer on the track.
The songstress recently released her re-recording of Red and gave her fans the 10-minute version of 'All Too Well.'
The song is widely believed to be about Swift's ex Jake Gyllenhaal, although she has never confirmed or denied it. 
It featured some of Swift's most brutal lyrics on heartbreak ever and gave fans an insight into what her relationship was like.
Unfortunately for Gyllenhaal, Swifties relentlessly trolled the actor on his IG, including his 9/11 posts, and targeted his sister. 
Este Haim, Taylor Swift, and John Mayer Collaboration
According to an anonymous source that emailed Deuxmoi, Mayer will be on the guitar and not the vocals for' Dear John (Taylor's Version).' The collaboration was Haim's idea, who is friends with Swift and Mayer. 
The source heard about the collaboration from a Columbia Records Executive, and Haim and Mayer are both signed to Columbia Records. 

Deuxmoi's IG Story About Este Haim, Taylor Swift, And John Mayer Collaboration (Source: Deuxmoi Instagram)
The source also stated that Haim and Mayer had performed at their CEO Ron Perry's birthday a couple of years ago and added that a music video was also in the works. Although some fans are excited by the idea, others think this is all a hoax.  
But before these collaboration rumors could escalate any further, Haim seemingly confirmed this was not true.
A fan on Twitter had tweeted that she was tired of seeing that "stupid screenshot about John on dj (tv)" and people falling for it and sharing it. 
She then added that "Este Haim would never" do that. The tweet was liked by both Este Haim and Haim (Band). 
As of right now, no one knows the truth, and who knows if the Haim sisters are dropping hints or not by liking this tweet. 
Taylor Swift's 'Dear John' Drama 
The first version of 'Dear John' was released in 2010, a not-so-subtle break-up anthem about her romance with an older man. The songwriters were linked after their collaboration on Mayer's single, 'Half of My Heart.'
At the time, Swift told Elle that she was a big fan of the 'Gravity' singer and was excited to work with the critically acclaimed artist. However, a few months after the song was released, their relationship turned contentious. 
She released the song, which did not paint Mayer in a good light. He criticized Swift for her "cheap songwriting," letting fans know he did not appreciate being the subject of her heartbreaking lyrics.
"It made me feel terrible. It was a really lousy thing to do," he said. 
After that, Mayer released 'Paper Doll,' which many fans believe is about Swift.