Does Emily Ratajkowski Really Had Plastic Surgery?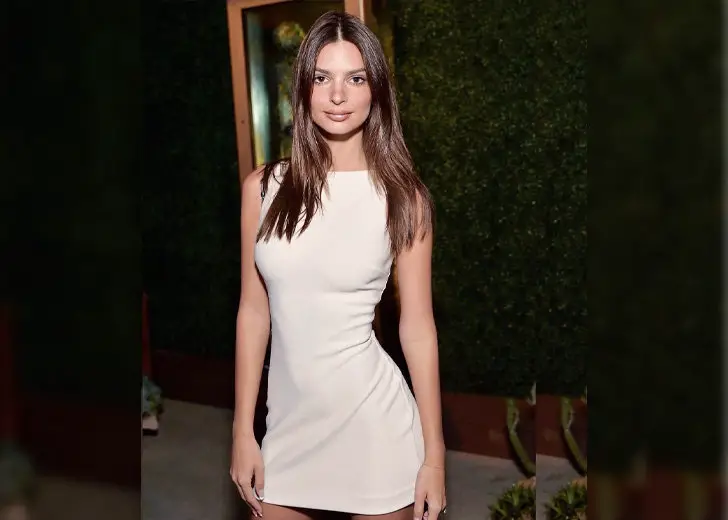 Emily Ratajkowski, or simply Emrata, was born on June 7, 1991, in Westminster, London. She is a model, actress, and Instagram celebrity.
On the image-sharing platform, she is currently followed by 29 million fans. 
Ratajkowski is married to actor/producer Sebastian Bear-McClard, who enjoyed his recent success with the movie Uncut Gems featuring Adam Sandler. He is credited with being one of the producers of the acclaimed film.
She is a mom to Sylvester Apollo Bear, her son, born on 8th March 2021.
Traditionally, Ratajkowski belongs to the Roman Catholic-Jewish ethnicity. However, her father is of Polish descent, while her mother has an Irish-Jewish background.
Career-wise, her father is a painter while her mother, reportedly, is a professor of English literature, as The List has mentioned. 
Once an erotic model for Treats! Ratajkowski has come a long way to make a prominent career.  
She became a hot topic online for her appearance at the 2021 Met Gala. She was seen modeling American fashion designer Vera Wang's stunning red evening gown with a plunging neckline. 
The Craze for Emily Ratajkowski's Naval
Ratajkowski is a model with unique bodily features. As a result, her 'oval like' naval alone has had a distinct fan base. 
As reported by Daily Mail in 2018, there was a massive surge of men and women who reportedly spent around $16 billion for plastic surgery in 2016 alone to give their naval a 'Ratajkowski' look. 
While people were crazy to give their naval some likeness to that of the supermodel, a few others demanded a Jessica Simpson type, which bears a similarity in looks with Ratajkowski's belly button. 
Further in the article, Daily Mail quoted Dr. Thomas Sterry, a board-certified plastic surgery expert, who called the belly button to be "an important part of your anatomy from a cosmetic perspective."
He further stressed that if someone at the beach had a "bad belly button, it's hard to look sexy."
How Did Emily Ratajkowski Perceive Her Instagram Image? 
Back in 2019, Ratajkowski urged her followers to understand that whatever they see on Instagram was not necessarily how it was in real life.
She wanted them to understand the difference between taking a picture for social media and taking a picture while doing something social. 
Talking to Amanda Montell of Byrdie, she explained that her Instagram image was manufactured and did not necessarily reflect her real life.
What I always say to people is [my Instagram] is a curated version of a character. It's not my real life. Hopefully, young people understand that.
The model labeled her Instagram posts as "making my own magazine." She justified her claims by putting together a real-life example.
In her illustration, the 'Blurred Lines' model said that people had not seen her "when I woke up this morning with a fever, sweaty, with my mascara underneath my eyes."
"No, I'm not posting that," she mentioned. 
Has Emily Ratajkowski Undergone Plastic Surgery?
"No Way," Ratajkowski shut the plastic surgery rumors down with a string of two-word answers when asked if she had undergone a lip job.
Back in January, she played down the claims of her getting lip injections during her pregnancy.  

Emily Ratajkowki is thought to have undergone plastic surgery for her lips. (Photo: Instagram)
At the time, it was widely perceived that the actress had undergone plastic surgery to make her lips look a bit puffier.
On January 22, 2021, she dismissed the allegation with her Instagram story, citing her pregnancy as a strong reason for not getting the job done.
In the story, she explained, "You can't even get injections when you're pregnant." 
She further wrote how any "woman's blood volume increases 50%" during pregnancy which is why "ladies can get a little puffy in the face and lips."
Per Insider, who consulted plastic surgery specialist Dr. Alan Matarasso and OB-GYN Dr. Sheryl Ross regarding the matter, the doctors "wouldn't recommend the use of Juvederm, a popular lip-filler brand" or any other similar medications during pregnancy. 
They based their suggestion on the lack of studies to suggest their effects on the fetus and breastfeeding.