Edie Falco's Longest Intimate Relationship Was with Her On-Screen Husband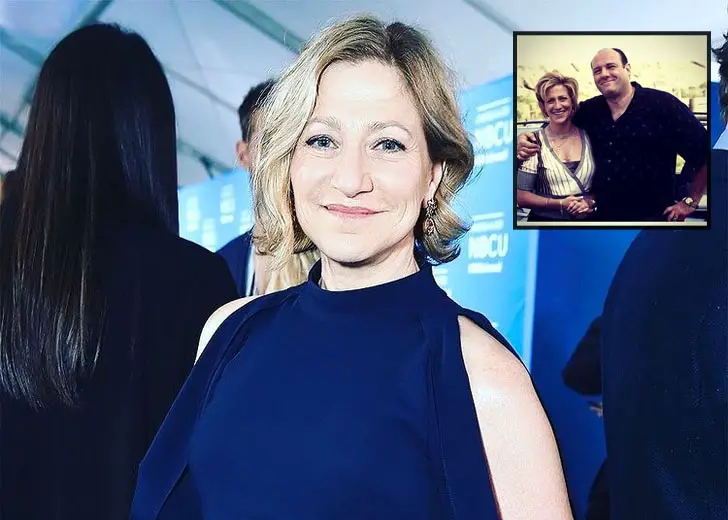 Over her decade-spanning career, Edie Falco has been romantically linked with multiple celebrities, including John Devlin, Stanley Tucci, and Bill Sage.
But the longevity of all her relationships could never surpass the durability of her on-screen romance with her TV husband, James Gandolfini. 
Edie Falco on Her Relationship with TV Husband
Falco portrayed the role of Carmela Soprano in the hit TV series, The Sopranos, while Gandolfini embodied the part of her husband, Tony Soprano.
The pair's characters were married for eight long years in the show, and Falco believes it was the longest "intimate relationship" she had ever had in her life, including the real ones. 
In an interview with The Guardian in December 2021, Falco recounted her on-screen marital relationship. She walked down memory lane, remembering how she and Gandolfini were like kids when they started filming. 
"Neither of us knew what we were doing," she mentioned, adding that they worked in the same way — with no preparation. 
Sadly, Gandolfini died in 2013, almost six years after The Sopranos ended in June 2007. He died from a heart attack at the age of 51.
Referring to his death, Falco stated it was "incredibly sad." She even shared that she couldn't re-watch the show because of her adoration for her late co-star. 
"People die and you move on, then you see them on screen, and it is too shocking," she said.
The famed actress also acknowledged that she adored Gandolfini as a person. However, they admittedly didn't hang out much. 
Elsewhere in the interview, Falco reasoned why she believed her rapport with her TV husband was the longest relationship she had.
In her own words, she didn't have a template for marriage because of her parent's turbulent relationship. And her on-screen marriage was the most enduring chemistry she had ever experienced in her life. 
Is Edie Falco Married?
Falco hasn't yet seemingly found the person to make him her husband.
The 58-year-old admittedly had a couple of relationships, and some of the serious ones even gave her the idea of being a mother.
Following her instinct, she adopted her two kids — son Anderson in 2005 and daughter Macy in 2008. As of this time of writing, she has been raising them as a single mother. 
When asked if she ever plans to marry, Falco told Vulture she was uncertain.
The Sopranos star elaborated that her kids and her Buddhism were a huge part of her life space, and she would need somebody very understanding to make it to the list. 
With that, she implied she was open to getting married if she found someone worthy. 
Stanley Tucci and Edie Falco's Relationship
Among all her relationships, the one that caught attention was her romantic rapport with Tucci. 
Tucci and Falco started dating in 2002 after they worked as love interests in the Broadway revival of Frankie and Johnny.
Tucci was still married to his wife and mother of two kids, Kate. However, as Tucci and Falco's relationship made it to the headlines, it became apparent that the actor had left his wife. 
Following that, the duo made several public appearances in high-profile events. However, they shortly parted ways privately.
Falco only confirmed their split in 2004 when in an interview with The New York Times. She admitted they broke up because "there was no way for that to be a good thing."
She heralded Tucci as a lovely man and expressed she was thrilled that her partner was back with his wife and kids.