Eddie Hall's Wife Alexandra Hall Keeps His Diet on Check
A look into strongman Eddie Hall's body transformation and his diet.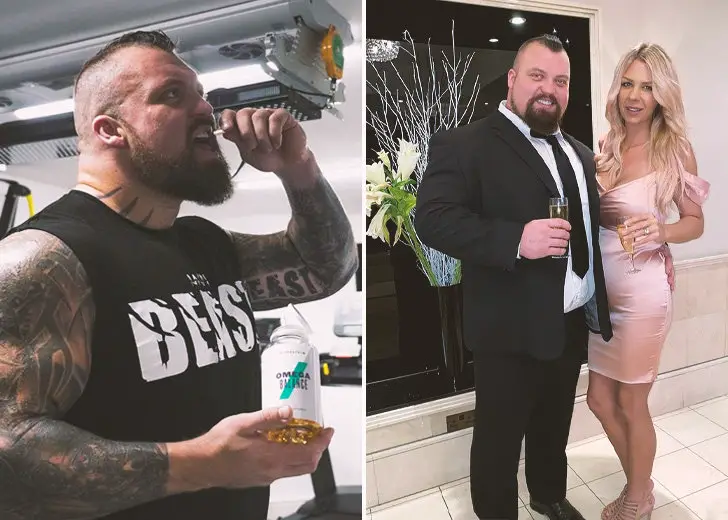 British strongman Eddie Hall was born on January 15, 1988, in Staffordshire, England. He won the 2017 World's Strongest Man competition, a title he achieved in his sixth straight attempt.  
He also has titles such as UK's Strongest Man and Britain's Strongest Man under his belt, winning both competitions on numerous occasions.
Eddie Hall's Career
Hall's career in body fitness dates back to his childhood. At the age of five, Hall was taught swimming by his mom, a swimming instructor at the time. 
Around 10, Hall had won the National Swimming Championship and broken a lot of records in swimming. But soon, he began suffering from anxiety attacks and depression.
His mental health condition would prevent Hall from furthering his swimming career. However, after two years of mental health battles, his parent advised him to join a gym.
It would later turn out to be the best piece of advice they would give to their son. The environment of the gym shaped the man into a beast. In an exclusive interview with Daily Mirror, Hall is quoted saying,
The euphoric feeling the gym gave me became addictive.
Eddie Hall's Professional Achievements
Hall never looked back after hitting the gym for the first time. He grew into a beasty figure by the time he was 19. It was around this age he set his mind to make a career as a strongman. 
But before being crowned as 2017 World's Strongest Man, Hall would impress everyone with his continued domination in the UK's Strongest Man competition by winning the contest back to back between 2011 and 2016. 
Also, between 2014 and 2018, Hall would dominate Britain's Strongest Man, winning it five times in a row. 
Eddie Hall's Diet Plan and Daily Routine
As per his wife Alexandra, the big man has to be fed six meals a day. So his daily requirement is understood to be 7,000 calories a day. 
As per Stoke Sentinel, Hall's everyday diet contain chicken, eggs, steak, rice, and vegetables, fulfilling his daily dose of carbohydrates and protein. His wife keeps up with her husband's daily food plan. 
Hall's wife further reveals that her husband "doesn't eat normal-sized meals" and has to be served "on a platter because it's too much food to fit on a plate." Recently, Alexandra told her Instagram followers that she cooks at least one new meal a day to learn more and level up her cooking.
The strongman once said that he spends £300 ($829) a week on food when training really hard. Apart from managing time for naps and meals, the fitness freak spends most of his time lifting weight, swimming, running, and boxing. 
An Insight into His Wife And Kids
Hall is married to businesswomen Alexandra, who runs a successful barber store in Britain when not taking care of the once world's strongest athlete. The couple has two kids, a daughter, and a son. 
In one of his recent Instagram posts, Hall labels his longtime wife as his "rock" and calls her his "absolute everything." He further credits her as his reason for being "driven and ambitious."  
Alexandra, who goes by the name @alexandra_stronglife on her Instagram, is currently being followed by 78,000 fans.