Robert Oberst Ready To Give Up Strongman Career For More Time With Wife And Son
World-renowned Robert Oberst didn't have a happy childhood owing to the divorce of his parents. So now, he is ready to end his career in a heartbeat if it means getting to spend more time with his wife and son.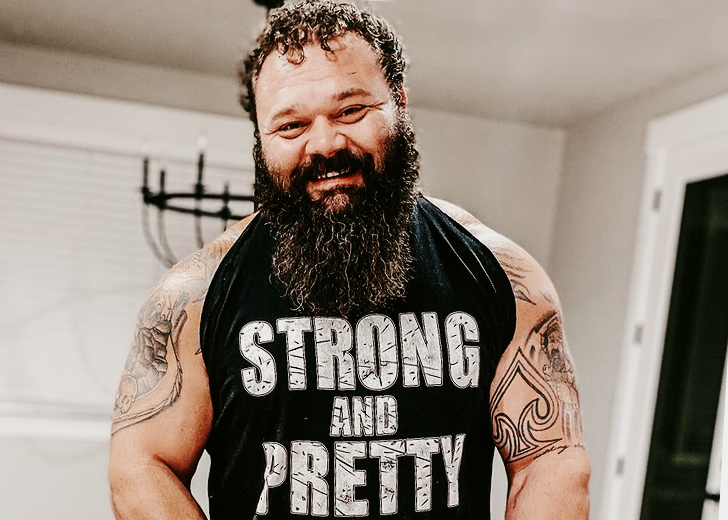 Beneath the sturdy persona of the American log lifting record holder Robert Oberst lies a kindred soul for whom nothing matters more than family — not even weightlifting.
As the strongman beautifully puts it, the birth of his son, Atlas, changed everything for good.
While Robert grew up in a rather dysfunctional family without much parental guidance, the Strongest Man In History star doesn't want the same fate for young Atlas.
In fact, the 36-year-old is so adamant about it that he doesn't mind giving up the pro-strongman career only to spend more time with his girlfriend and their family. 
Robert Oberst In A Relationship Since 2017
The Santa Cruz native has been in a relationship with Meghan Nesgoda, a sales associate for Independence Indoor Shooting, for the past three years. 
They first met each other on July 1, 2017, at a Strongman event. And, after a few more meetings, they eventually initiated their relationship.
Robert and his beautiful girlfriend, Meghan's love for each other, can be seen through their social media handles, where they frequently flaunt pictures with one another.
For illustration, on July 1, 2020, in their third year of being together, Meghan shared the very first picture they took together through Instagram, where both can be seen laughing. All the while, Meghan sat on the weightlifter's able shoulders. The lovely partner also had some kind words about their relationship: 
Met this guy three years ago today, and it's been a wild ride ever since
Robert Oberst Has A Son From His First Wife
Before his relationship with Meghan Nesgoda, Robert was married to his first wife, Kristin Oberst. The two shared wedding vows in 2012 at Hanford, California.
Following their wedding, the man and wife seemed inseparable as Kristin accompanied the talented husband during competitions.
What's more is, while giving winning speeches or giving interviews, Robert always mentioned his wife Kristin as his primary support system, without whom he would not have been able to achieve all that he had. 
In addition to that, in 2013, the pro-strongman even started a fundraiser in fundrazr.com so that his wife could travel to China with him for the World's Strongest Man competition.
And, on September 9, 2016, Robert and his wife became parents for the first time when they welcomed their first child, a son named Atlas Bear Oberst.
But, after late 2016, Robert's wife almost disappeared from the public eye, and the two haven't been seen together since.
Judging by Robert's posts with his current girlfriend, Meghan, he appears to have separated from his wife. However, neither has given any statement about their divorce nor when and why they split.
Robert Oberst
Wants To Be His Best Version For Son
Although Robert and his wife aren't together anymore, the perennial World's Strongest Man finalist doesn't want his son to bear the brunt of their failed relationship.
Back when he was only 16, the strongman himself had to endure the divorce of his parents, father, Jim Oberst, former military personnel, and his mother, Kathy Oberst. Talking about it with London Real, the pro-athlete said the incident left him homeless.
While not getting into too much detail, the Western Oregon University graduate said that the divorce made him a rough, unkind character. Although the 36-year-old refrains from talking more about it, it is clear that he understood the importance of family connections from quite early on. 
This is why the bearded hunk wants to spend as much time as possible with little Atlas and shower him with love as much as possible.
The father of one wants to leave no stones unturned and thus doesn't mind going the distance.
For instance, he celebrated Atlas's fourth birthday, on September 9, 2019, in front of ten thousand people and posted the video on Instagram. 
Likewise, during a sit-down interview with London Real, on September 29, 2019, the world-renowned athlete talked about his son bringing the best in himself. In the same interview, Robert said that he wouldn't think twice to give up on his pro career if it meant more time with beloved Atlas. 
Bearing this in mind, the strongman wishes to be a good father to Atlas, a loving partner to Meghan, and an overall swell guy spreading positivity all around.