Dustin Poirier Says His Wife Has Been His Staunch Supporter since His First Fight
Dustin Poirier has been married for over a decade and is blessed with a beautiful daughter.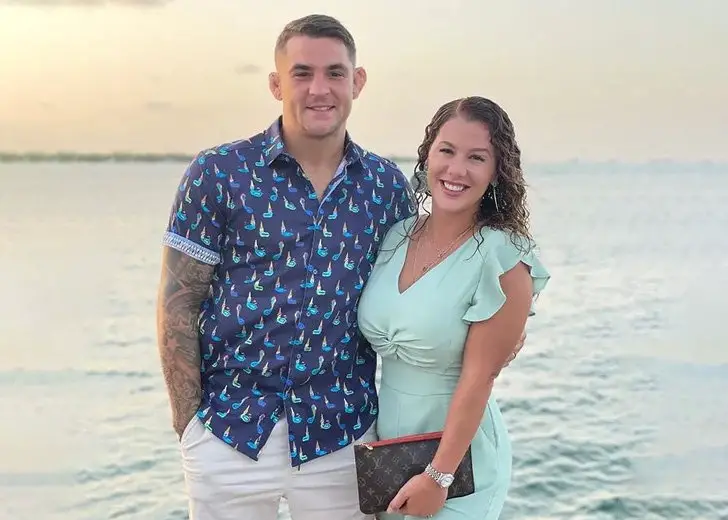 American professional fighter and UFC Lightweight Champion Dustin Glenn Poirier is now also a philanthropist alongside his wife Jolie Poirier.
The former UFC Lightweight Champion, who currently stands #1 in the lightweight rankings and #6 in the pound-for-pound rankings has become a household name in the world of mixed martial arts, and his wife, Jolie, has been in his corner since day 1.
Who is Dustin Poirier's wife, Jolie Poirier?
Jolie Poirier is a social media personality who is well known in the United States as Dustin Poirier's wife. She is also a successful entrepreneur and philanthropist who operates from her hometown of Louisiana. 
Jolie was born Jolie LeBlanc to papa Carl and mamma Teri LeBlanc in Lafayette, Louisiana on March 4, 1989, which makes her zodiac sign Pisces. She belongs to white Caucasian background and is Christian by birth. 
Poirier's wife is currently serving as the Vice President and Director of a non-profit organization called The Good Fight Foundation whose motto is "Fighting for a Cure to Help Save Children."
The charity is unanimously appreciated by the MMA world. In 2020, their efforts were acknowledged by the UFC as they presented Poirier with the inaugural Forrest Griffin Community Award.
Other than managing the charity, the social media personality has also launched her own red hot sauce brand called 'Poirier's Louisiana Style Hot Sauce,' a few years back.
Dustin Poirier and His Wife Jolie Are High School Sweethearts
According to some sources, Jolie met her husband during her high school days when they were both teenagers. Their dating history dates back to 2003.
The love birds finally exchanged vows on September 4, 2009, at a private ceremony in front of their friends and family. The duo shares a beautiful daughter, whom they named Parker Noelle.
The 32-year-old lady is always beside the ring while her husband is fighting and she has been doing this for years now!
In an episode of Below the Belt with Brendan Schaub, Dustin revealed how his wife had supported his MMA career since day 1.
What's beautiful tho, my wife's been there since the first fight when I was 18. Those times you asked if I ever thought about stopping, she is the one who said 'You Can't.'
About the UFC Champion Dustin Poirier
Poirer attended Northside High School in his hometown, Louisiana, but he had to drop out early because he would be found showing his strength in street brawls. He started fighting professionally in local arenas in the state with a perfect 7 - 0 record in his debut. 
In 2010, he was noticed by World Extreme Cagefighting and it seemingly led him to take part in the UFC. His neat moves and sparkling new techniques made him an overnight success and he was admired by fans all over the world. 
"The things I do, I just do 100 percent," he said when a fan asked him to tell the secret to his performance. "I put my heart and soul into fighting. It's my passion, and I'm bleeding and sweating every single day. That's how bad I want to be the best."
The Louisiana-born champion went on to achieve impressive wins against top contenders in the industries, including Anthony Pettis, Conor McGregor, and Dan Hooker, to name a few.