Doja Cat Is Having None of the Hate on Her Weight Loss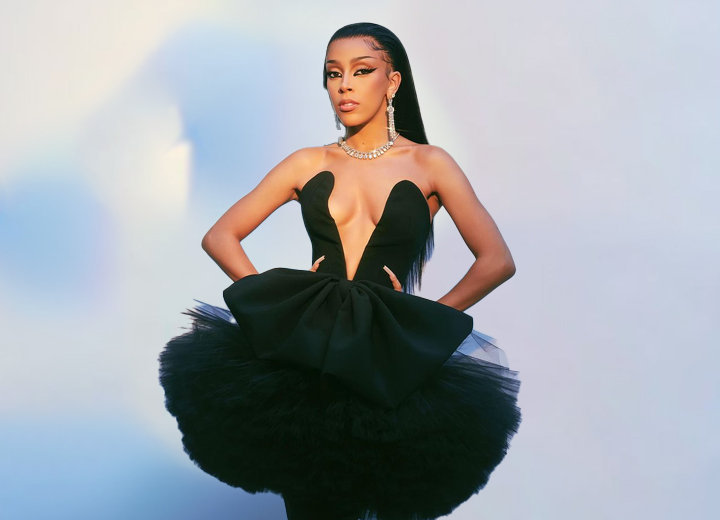 Doja Cat hasn't had the best July or June this year. The pop sensation has had a few things bothering her over the course of these two months.
The more talked-about of the two biggest things she has had to deal with is obviously her messy situation with Stranger Things stars Noah Schnapp and Joseph Quinn. Her weight loss is second and relatively less talked-about.
Speculations about Doja's weight loss began midway through 2021. However, it became a big topic of discussion in June 2022 when many people started noticing and passing unnecessary comments about her apparent weight loss.
Doja, however, is ready to let nothing slip by her when it comes to her body and weight.
Doja Cat's Weight Loss Rumors and Her Response
Just as June was about to begin, Doja took to Twitter to show off her body. And while she might not have intended for people to make comments on her body, people still did.
In her tweets from May 30, where she showed off her bikini looks, people made a few replies regarding how she had lost weight and about her body not looking like it did in the past.
Some were speculating that her record label might have forced her to lose weight for her new album. Others were of the opinion that she had a natural weight loss and nobody could have forced her to do anything.
Regardless, this was the day Doja's weight loss topic gained significant traction for the first time in 2022. A few outlets picked up on these tweets and speculations and ran with it. Twitter, too, went crazy about this.
Articles claiming she had undergone "drastic weight loss" started popping up. Another post on Instagram on June 5 received similar comments about her weight loss. Doja, of course, noticed these, but remained silent for a while.
Then, on June 22, she put up a few pictures and videos from one of her makeover sessions. She was rocking a pink hairdo and a revealing outfit, which again prompted a few people to make comments about her apparently changing body.
2018 v 2021. Zero difference aside from the way she does her eyebrows and the weight loss. You can't just use some off angled photo to prove a point that's not even correct. Ppl should really stop assuming things and minding other ppls business. pic.twitter.com/S1GYem65fF — Jordy🤟🏽 (@aboywithablog) February 28, 2022
One particular comment, which asked about where the "thick doja" went, got to the pop star, who then fired back with a fitting "not for you."
This was Doja's way of saying what she did with her body and weight was not anyone's business. People, however, apparently did not get the note.
So, on June 24, she was forced to respond to similar comments about her on Instagram live. And seeing how she was using voice software on her computer to talk to fans as she was recovering from tonsil surgery, it was an important point she wanted to get across.
Through her software, she said it wasn't the fans' "place to speak" regarding her body. Further, she also clarified it was her choice to "eat more [healthy] and workout."

Doja Cat (Photo: Instagram)
"Sick and tired of y'all talking about my body," Doja fumed at the negative feedback, which many of those present in the livestream supported.
The Start of Doja Cat's Weight Loss Rumors and Her Body Issues
Doja, whose real name is Amala Ratna Zandile Dlamini, first became a victim to weight loss speculations midway through 2021. In July 2021, she got dragged all over the internet over speculations that she had doctored a picture on Instagram.
Internet detectives accused Doja of photoshopping her Instagram pictures from July 11, 2021, to make her waist look slimmer.
However, another group of fans thought she was losing weight. They speculated she was undergoing weight loss as a part of developing new looks for her future projects, especially her clothing range collaboration with PrettyLittleThing.
Doja neither confirmed nor denied weight loss or photoshop, perhaps because she found it unimportant. She has, however, spoken about things she finds important, like her body issues and plastic surgery rumors.
"Growing up, I definitely had body dysmorphia," she told Cosmopolitan Middle East in October 2020. "And I've had it since."
She discussed how it started in her teens and how she thought she looked good in nothing she wore. However, she also revealed she had been trying to get it under control through "eating well" and blamed phones and the internet for making it difficult to get completely over her dysmorphia.