Why Did Deji and Girlfriend Dunjahh Break Up? Drama Explained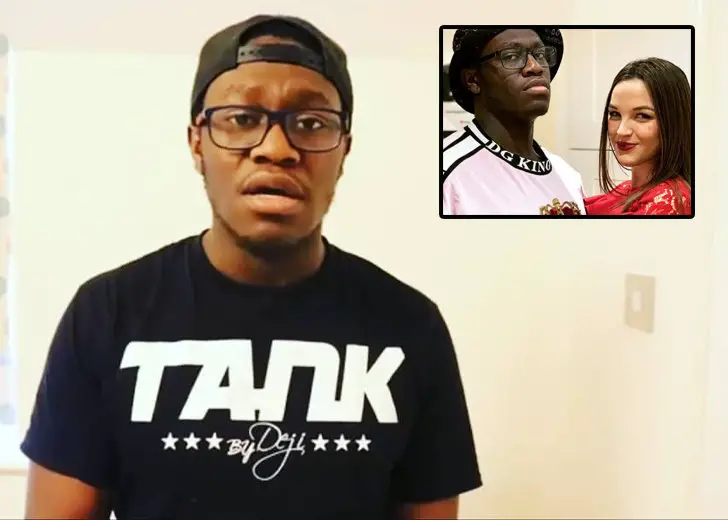 After a few years of being in a relationship, it appears British YouTuber Babadeji 'Deji' Olatunji and his girlfriend Dounja 'Dunjahh' Akoudad have split. 
Deji and his girlfriend started dating around May 2019, although they first met nine years ago on Runescape, an online game. 
As content creators, they have their individual channels where they often documented their relationships. 
Deji is a famous creator with over 10 million subscribers on YouTube, and although Dunjahh's Twitch channel isn't as big as Deji's, she drew a lot of attention recently. 
During a stream with several others, his partner got into an argument with WesleyTW. 
WesleyTW accused Dunjahh of having a "fat [expletive] nose," after which she turned her head to the side to show her nose and questioned his remark.
She then said: "Fat [expletive] nose? You're Black. You're literally Black. What are you talking about, fat [expletive] nose," before bursting into laughter. 
Before this, WesleyTW had also berated her for making an "out of pocket" comment. 

Deji Olatunji and his former girlfriend, Dunjahh Akoudad (Source: Deji Olatunji/Instagram)
Her response was, "I'm sorry… I'm sorry that you're black," which netizens found racist. 
After that, Dunjahh took to YouTube and Twitter to apologize for her comments. 
Deji and His Girlfriend Split
A few days after the stream went viral, the YouTuber turned boxer took to YouTube to post a video titled 'I did not want to make this.'
In the video, he talked about his girlfriend and her racist comments. In addition, he revealed that he and Dunjahh had split last year at the beginning of December. 
He explained the split was mutual, and there were no hard feelings. 
"There was no toxicity. We both understood that I wanted to focus on my boxing career," said Deji. 
The YouTuber then talked about his former partner's racist comments. 
He defended her, saying he didn't think she was racist but acknowledged that her comments were beyond the pale. 
"I think she was just extremely out of order. What she said was terrible. It was hard to watch, really, very hard to watch." said the YouTuber. 
Deji further clarified that he meant to announce the split with his girlfriend after his fight with Alex Wassabi, but he received messages and calls from people asking him about the situation.
In the end, he felt compelled to address the situation. 
Dunjahh's Response on the Matter
After Deji's video went live, Dunjahh took to Twitter to express her thoughts on the matter and their split. 
Although she did not explicitly state that the tweets were for Deji, fans assumed it was. 
In one of her tweets, she wrote that she always had everyone's back, no matter what they did. 
But the moment she messed up, she was on her own.
She then concluded the tweet by saying, "I thought you out of ALL people would understand."
Fans assumed that the "you" probably referred to her ex-boyfriend. 
Dunjahh confirmed nothing about her break up, but in another tweet, she wrote she would expose no one and move on with her life. 
She noted that karma would catch up to everyone who had done wrong and called out the "SJWs" (social justice warriors) for thinking that calling her racist would make them a better person.