Deji's Girlfriend Dunjahh Apologizes for Her Racist Remarks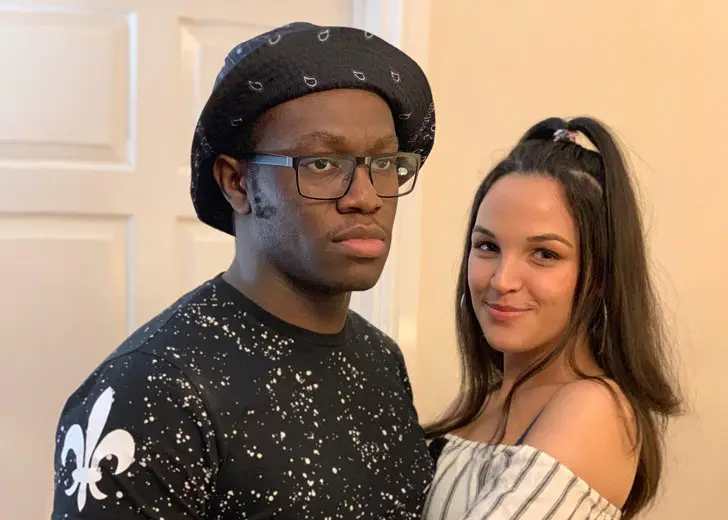 On January 27, 2022, British YouTuber Babadeji 'Deji' Olatunji's girlfriend, Dounja 'Dunjahh' Akoudad, took to Twitter to apologize for her racist remark. 
Netizens levied the accusation on his girlfriend after her live Twitch stream. 
In the apology note, Dunjahh wrote that she said a stereotypical remark which came across as racist, although that was not her intention. 
She added that she felt terrible for the racist remark and took full accountability for her actions, explaining that she was "truly, truly sorry."
But Twitterati was confused and did not know what she was apologizing for. They asked for the context in the comment section.
User @DanielOgunleye7 replied that they "legit [had] no idea what this [was] about."
They added that if it was the first time they heard about the apology, it was not as big a deal as Dunjahh perceived.
Another user named @TObey replied she did not need to apologize as people were sensitive. 
But some fans seemed to know what was happening as they posted clips of Dunjahh's Twitch stream. 
Dounja' Dunjahh' Akoudad's Racist Remark
Dunjahh does not have a massive following like her boxer boyfriend, but she drew a lot of attention for her controversial remarks. 
On January 26, Dunjahh was live-streaming on Twitch with several content creators, including WesleyTW. 
But during the stream, she accidentally said things that have been labeled as racist.
It appears Dunjahh and WesleyTW were arguing when the latter stated that the former had a "fat [expletive] nose." 

Deji Olatunji and his girlfriend Dounja 'Dunjahh' Akoudad. (Source: Instagram)
The female streamer turned her head to the side to show her nose and said, "Fat [expletive] nose? You're black. You're literally black. What are you talking about, fat [expletive] nose?" She then burst into laughter. 
The two other creators in the stream intervened, asking everyone to chill.
Later in the stream, Dunjahh tried to defend herself, claiming that she wasn't racist and that the statements accidentally came out of her. 
However, WesleyTW wasn't having any of it and berated her for her "out of pocket" comment.
She apologized again but then responded with, "I'm sorry that you have a black skin color. It was not a roast, dude." 
Dounja Akoudad and Babadeji Olatunji's Blackface Fiasco
Unfortunately, Dunjahh has been criticized for racism before.
In January 2021, Deji uploaded a YouTube video titled "She never saw this coming," with his partner. 
In the video, the YouTuber decided to prank his girlfriend by asking her to close her eyes. 
He told Dunjahh that he wanted to surprise her and painted her face with chocolate. They ended up recreating the infamous "blackface."
Once he was finished, he took her to the bathroom mirror and asked her to open her eyes.
Deji's girlfriend was shocked and at a loss for words, but she recovered and immediately talked about the racist overtone. 
Eventually, Dunjahh gave in and played along. She even tried to make her boyfriend's mother "accept" her.
Meanwhile, Deji mumbled that his girlfriend was "one of them now."
Netizens did not see the humor in Deji and his girlfriend's situation and criticized them.