DC Young Fly Celebrates 30th Birthday — Says He Is 'Blessed to See 30'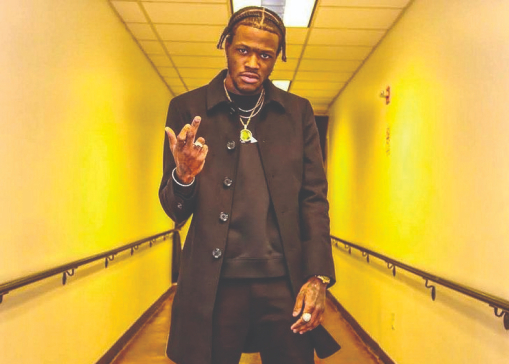 DC Young Fly celebrated his 30th birthday in what appears to be the backstage of Bojangles Coliseum, Charlotte, NC. 
He posted a carousel on Instagram wearing a cyan-blue tracksuit and all-white kicks. In the caption, he wrote, "Blessed to see 30," adding a prayer emoji.
The Wild N Out star expressed his gratitude to God, writing "I owe my life to GOD!!" "I wanna be the epitome of a humble servant .. heart of Moses but the relationship like Abraham," added the comedian.
He also posed with his Wild "N Out co-stars Karlous Miller and Chico Bean and referred to them as brothers. "Brought my b day n wit my brudddas….Charrolete NC I love yal."
Describing their stand-up performance, he added, "we was toooo lit [sic] toniteee wen I come back we turnin up evennnn moreee"

DC Young Fly on his 30th birthday. (Photo: Instagram)
The artist on the rise also teased more new projects in the coming years, "watch wat I do in this next decade!!."
And through the hashtags such as #NoDayzOff #ComedyHustle #ImNotInvolvingMySelfInNoLilBoyActivity, he implied he would hustle more in the upcoming days.
He even demonstrated his will to work hard by not taking a day off before the special day. Instead, Fly took to the stage and delivered a great show for his 'No Cap Comedy' tour.
The Outpouring of Good Wishes on DC Young Fly's Birthday
Friends and family showered Fly with good wishes on his special day. One of the most important people to do that was his longtime girlfriend Jacky Oh.
Jacky dedicated a special video post for him, making an adorable compilation of photos and videos of her, Fly, and their kids together. She used his song 'Good Thang' ft. Rotimi as the background music.
"Happy 30th Birthday to the man who puts God before all & protects his family like no other!" she captioned the post, adding, "7 years hanging with this crazy guy & watching him evolve has been such a privilege." 
She also complimented Fly, "He's the hardest working person I know & such an inspiration for me to stay on my grind."

DC Young Fly with his pregnant girlfriend Jacky Oh and daughters Nova and Nala. (Source: Instagram)
Appreciating him for being a noble father to their kids, Jacky wrote, "Our babies are so lucky to have u as their daddy!" "Ima make sure ur celebrated & turn up today!" added Jacky.
Fly and Jacky have been dating since 2015 and have three babies together. The couple is the parents of their two adorable daughters, Nova, 5, and Nala, 2, and a new baby boy, born in the last week of April 2022.
Other than his muse, his near and dear ones were also quick to show their love in the comment section of his post. 
"HBD family!!!" wrote the NBA shooting coach. Even the comedy legend Mark Curry commented with a few fire emojis. 
Comedian D. L. Hughley wrote, "Happy Birthday my dude!!!!" And his Wild 'N Out co-stars Chico Bean and Justina Valentine also wished him a happy birthday. "Happy Birthday bro," wrote Valentine.
"God bless and many more !!!!!" Comedian Michael Blackson commented, "Happy bday little young old looking [expletive]."
How DC Young Fly Celebrated In The Past vs. In 2022
In 2020, Fly had a chill celebration with his girlfriend, kids, and family. 
Jacky threw a surprise party for Fly two years ago. She treated DC and his fam to a stay at the Lake House.
They jet skied, fished, BBQed, and more, as recorded in Jacky's vlog.
This year differs totally from two years back, and the multi-talented personality is on the grind every day.
In an April 25, 2022 interview with Club Shay Shay, Fly talked about all the projects he was involved in. He mentioned the 'No Cap Comedy' tour, The 85 South Show, Wild "N Out tour, and teased new music.
The comedian wasn't taking it easy on his birthday this year, as he mentioned in his post.