David Lee Roth's Reaction to Rumor of Him Being Gay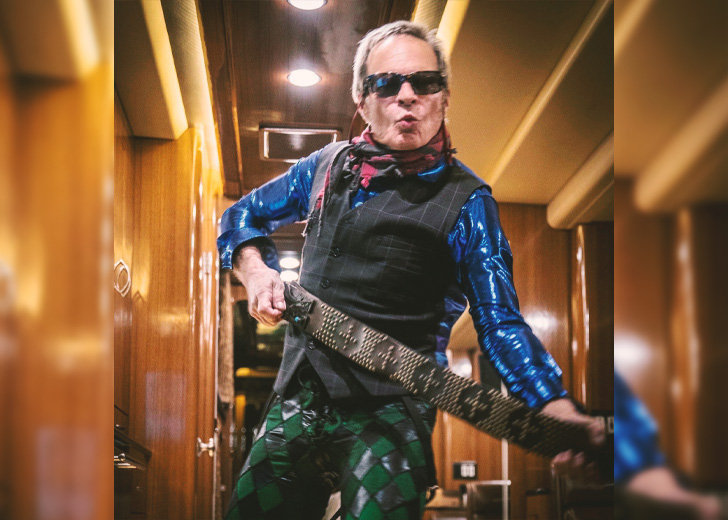 Legendary rock musician David Lee Roth is the lead vocalist in the rock band, Van Halen. The band is considered to be one of the best rock bands of all time. 
Roth is a Bloomington, Indiana native and was born on October 10, 1954, to Nathan Lee and Sibyl Roth. The 67-year-old is yet to be married, or in the rockstar's own words, "I put off getting married when I found out, oh, you don't really have to."
David Lee Roth Laughed off Gay Suggestions
Talking exclusively with BuzzFeed in April 2013,  Roth opened up about his reasons for deciding to live his life as an unmarried individual. In the conversation, he also talked about having girlfriends and love affairs in his adulthood.
Roth gave out a hearty laugh when BuzzFeed's Steve Kandell suggested to Roth that, as per online rumors, he was understood to be gay and was married to his male chef in a civil ceremony a decade prior to the interview.
Roth was unaware of this particular suggestion, which gave the rock legend a proper guffaw.
The singer told the interviewer that the split between Roth's parents during his high school made him reject the concept of marriage and family altogether.
During the chat, Roth gave Kandell a piece of his past and presented the journalist with an opportunity to evaluate if the gay suggestions were accurate.
He said,
I've lived alone my whole adult life. I've had girlfriends, I've had love affairs. Never longer than a year and a half. I'm the drunk who won the lottery, I'm going to be very difficult to convince of a lot of traditional things. 
David Lee Roth's Relationship History
In 2013, Roth gave an open and honest interview to an Australian media outlet called Brisbane Times. In the interview, Roth touched upon several aspects of his life, including his parents, dysfunctional family, first kiss, women he has loved, and places he's been to.
Talking about his love life, Roth mentioned being attracted to females from a very early age. As a fourth-grader, the legendary rockstar would sit outside the house of a girl named Laurie for hours as he had a "big crush" on her.
Further, Roth experienced his first kiss with a "skinny blonde girl" named Jannie Scott, "one of the rich kids" he met while working at a stable as a thirteen-year-old.
Roth, aged fourteen, slept with one of the girls named Elaine while on a family vacation in Tahiti. He stated she was four years older than him. But, per Roth, he had "so many options when it came to women for 20 years." Inevitably so, he was a rockstar belonging to a famous rock band that elevated his status among "every pretty girl."
While he was talking to the Brisbane Times, Roth revealed to have been in an ongoing relationship with a Japanese woman, who, per Roth, was "half my age." 
While the singer was giving accounts of his past lovers, Roth said he had "four great loves in my life," but never decided to marry any of them.