David Boreanaz's Fake Tattoo from 'Buffy the Vampire Slayer' Is More Popular than His Real Tattoos
Boreanaz and his wife Jaime Bergman have matching tattoos.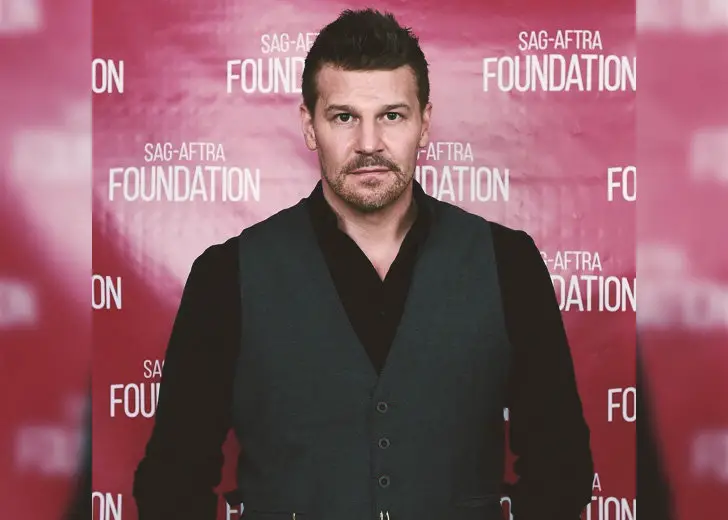 If you have watched the late 90's series Buffy the Vampire Slayer, which ran till 2003, you definitely know David Boreanaz. The talented actor, television producer, and director played the role of vampire-turned-private investigator Angel in the supernatural drama television series and its spinoff Angel.
He impressed viewers with his fantastic performance in varied situations in the series, especially as Buffy's (Sarah Michelle Gellar) love interest.
But that is not all. Boreanaz was also able to leave his mark with his tattoo, inked behind his right shoulder, which he flaunted throughout the run of the series.
Interestingly, that fake tattoo, made only for his onscreen role, is now more famous than his real tattoos. For those who weren't even familiar with that fact, Boreanaz has one each on his two wrists.
David Boreanaz's Real Tattoos
The SEAL Team actor has two visible tattoos on his wrists, which are Kanji designs. One of his wrist's tattoos reportedly means "soul," and another means "destiny."
However, he rarely shows them off by choice in public. Even his social media posts are limited, and none of them features his tattoos.
Boreanaz's wife, model Jaime Bergman, who is also very private and does not have an Instagram handle, has the same matching tattoos on her wrists.
Boreanaz and Bergman have been married since November 24, 2001, and together, they have a son, Jaden Rayne, and a daughter, Bella.
David Boreanaz's Tattoo on 'Buffy the Vampire Slayer'
Since Boreanaz's tattoo on Buffy the Vampire Slayer got more exposure on television than his real tattoos, his onscreen tattoo became more familiar amongst his fans.
His onscreen tattoo is also considered as one of the most defining physical traits of his character Angel in the series. The tattoo showed a winged lion along with the letter "A" beneath it.
In the series, the character Rupert Giles — the Watcher and father figure of Buffy Summers — used the mention of "a tattoo behind his right shoulder" from a Watcher Diary as a means of identifying the vampire. And Buffy, the protagonist, described the tattoo as "a bird or something" when she first saw it.
Later in the series timeline, another character Wesley Wyndam-Pryce recognized Angel despite his Van-Tal form due to the presence of his tattoo on his back while he was the dimension of Pylea.
The meaning behind David Boreanaz's Fake Tattoo
Speaking with ET Online in 2000, the creator and executive producer of Buffy the Vampire Slayer and its spinoff series Angel, Joss Whedon, described the origin of Angel's tattoo, saying, "Angel's tattoo actually has a very fascinating story behind it."
He continued to add,
When we said we wanted a tattoo, Todd McIntosh, our makeup artist, said, 'How about this?' And we said, 'Okay.' And one unexpected side note to that story is that I asked, 'What is that, a bird or something?' And Todd said: 'Uh huh.'
In addition, the tattoo's design is based on an illustration from the Book of Kells, an illuminated manuscript Gospel book created in a Columban monastery in either Britain or Ireland that describes the symbols of the four evangelists.
Hence, Angel's tattoo is a copy of the symbol known as the Lion of Saint Mark.