Dave Mustaine's Daughter Electra Mustaine Is Carrying on Her Father's Musical Legacy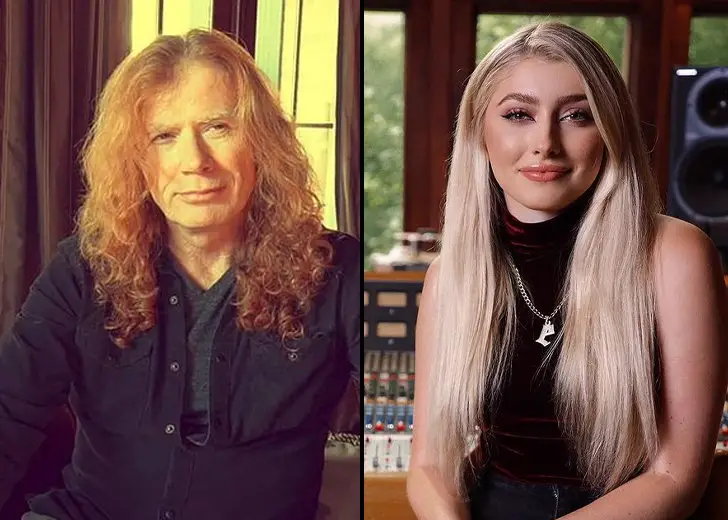 Like many young musicians, Electra Mustaine, the daughter of the thrash metal band Megadeth's co-founder, vocalist, guitarist, and primary songwriter Dave Mustaine, is pursuing a career in country music, following in the veteran musician's footsteps.
Dave, born David Scott Mustaine, had her with his longtime wife, Pamela Anne Casselberry, on January 28, 1998.
He and his wife also have another child, Justis Mustaine, who is six years older than Electra.
To be precise, Justis was born on February 11, 1992. She is also seen playing the guitar and has reportedly appeared in several local theatrical productions.
Dave Mustaine and Daughter Electra Mustaine Plays Together
Since Dave and his younger offspring, Electra, are equally dedicated to music, they are often seen performing together.
For instance, the father-daughter duo came together to perform a cover of the Beatles' 'Come Together' during the pandemic in March 2020.
Electra took to Instagram to share the moment as the duo's fans saw her father in charge of the guitar while she did the vocals.
"Here's a lil' #MyMusicMoment with my dad, @davemustaine, someone who I'd never want to lose! THAT is why the Mustaines stay home. We hope you do too! Wash your hands, practice social distancing, and stay healthy," she captioned her post.
They reportedly recorded the performance to support the Alzheimer Foundation's Music Moments, an album that featured artists "coming together" with new recordings and unreleased tracks.

Dave Mustaine with his daughter Electra Mustaine. (Photo: Instagram)
Seeing Dave's daughter Electra perform alongside her father, independently in other instances, and take part in the mentioned initiative, one should not hesitate to say that she has carried on her father's musical legacy.
The Father-Daughter Duo at the Metal Outfit's Show
Talking about Dave and Electra's performance, the two also set the stage on fire when they appeared together at the metal outfit's show in Paris in January 2020.
The veteran performer invited his child to sing his band's 1994 classic 'À Tout le Monde.' He also chimed in as he sang the first verse of the song.
The Rolling Stone described the performance by writing, "From there, the Mustaines split vocal duties, with Electra's powerhouse belt providing a perfect accompaniment to the elder Mustaine's growl, especially as they combined at the end to howl the refrain, 'These are the last words/I'll ever speak/And they'll set me free.'"
Electra Mustaine's Musical Journey
Even though Electra followed in her father's footsteps, she chose a different genre of music. Her father is known for his heavy metal music while her tracks have pulsing beats and auto-tuned vocals.
In May 2021, she also released an electro-pop single 'Evergreen.' The song was the first official song from her upcoming debut album.
The same year, she had another single release from the same album. The song was titled 'Society Talk,' and has more than 50,000 hits on Spotify.
Moreover, she started as a songwriter by writing down early country songs. She also occasionally penned EDM, hip-hop, and pop songs.
One of her most successful songs in the latter genre is 2018's 'Just Us,' which was cut by EDM artist Said The Sky and featured Yuppycult.
After a point in time, she began singing with her notoriety as a singer growing after her powerful performance at the 2016 CMA Music Festival.